Kim's Sister Heartily Cheers Unified Korea Team: Olympic Update
By and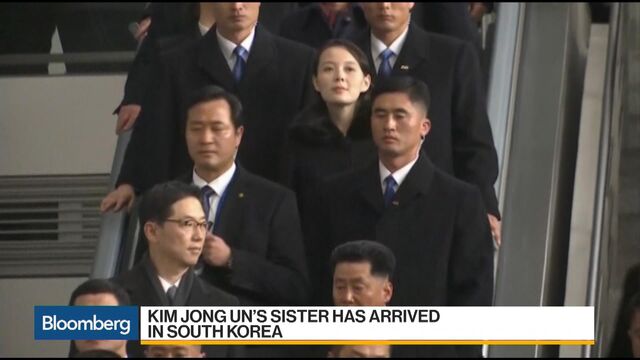 Kim Yo Jong, the younger sister of North Korean leader Kim Jong Un, smiled and enthusiastically applauded as athletes from both Koreas waved unification flags together at the Winter Olympics's opening ceremony.
South Korean President Moon Jae-in stood and clapped for just as long as the competitors took a lap around the stadium to the tune of Arirang, an ancient folk song considered the unofficial national anthem of a unified Korea. In the stands, North Korean cheerleaders also waved the white flags depicting a united Korea in blue.

U.S. Vice President Mike Pence remained seated for a large part of the unified Korean team's appearance.
"Let the Games begin," Moon declared after all the athletes entered the stadium.
North Korea's participation in the Games has overshadowed the nearly 3,000 athletes vying for medals. Here are the latest developments, updated throughout the day (time-stamps are local time in South Korea).
Moon Shakes Hand of Kim's Sister as Games Open (8:32 p.m.)
South Korean President Moon Jae-in shook hands with the younger sister of North Korean leader Kim Jong Un as the Winter Olympics's opening ceremony kicked off.
Kim Yo Jong smiled as she greeted the South Korean leader in the VIP section of the stadium in Pyeongchang. She and the other high-ranking North Korean officials will meet Moon for lunch at the presidential Blue House on Saturday, with speculation mounting that she'll relay a message from her brother or even an invitation to a summit in Pyongyang.
Abe Shakes Hands With North Korean Head of State (7:55 p.m.)
Japanese Prime Minister Shinzo Abe shook hands and spoke briefly with North Korea's ceremonial head of state at a reception Friday before Winter Olympics opening ceremony, according to South Korean presidential spokesman Yoon Young-chan.
The greeting with Kim Yong Nam was Abe's first interaction with a member of the Kim Jong Un regime. The Japanese leader has stood alongside the U.S. in taking a hard line on the isolated nation, pushing for increased pressure and sanctions.
U.S. Vice President Mike Pence, meanwhile, didn't come across the North Korean delegation in the five minutes he attended the event, according to a senior White House aide. He was approached by 30 or 40 people and chatted with them before leaving, the aide said.
Moon Shakes Hands With North Korea Head of State (6:12 p.m.)
South Korean President Moon Jae-in shook hands and had a photograph taken with the head of the North Korean delegation at the reception Friday.
North Koreans Chat About Cold Weather, Smoking (3:58 p.m.)
Top officials from both Koreas engaged in small talk after Kim Jong Un's sister and other senior regime figures landed in South Korea. The conversation lasted about 20 minutes as they waited to board a bullet train to Pyeongchang for Winter Olympics's opening ceremony on Friday night.
Kim Yong Nam, North Korea's nominal head of state, got some laughs when he said it was "very easy" to distinguish North Koreans from South Koreans. When told they needed to wait for five minutes, he suggested smoking a cigarette.
The banter then turned to the cold weather, with Kim Yong Nam noting that temperatures were similar to those in Pyongyang. He later hailed the dignity of all Koreans, saying: "We're well known to be a country of courteous people in the East."
Pence Says 'No Daylight' Between U.S., South Korea (2:03 p.m.)
Vice President Mike Pence told reporters that he briefed Moon Jae-in on planned U.S. sanctions on North Korea, adding that he received the South Korean leader's support for pressure. "North Korea has to accept change, they have to abandon their nuclear ambitions," Pence said.
Earlier Friday, Pence met with North Korean defectors at a memorial for the 2010 sinking of the Cheonan warship that South Korea says was torpedoed by a North Korean submarine.
"President Trump has said that the brutal dictatorship of North Korea is little more than a prison state," Pence said. He thanked "these courageous people" for rebutting a nation currently carrying out a "charm offensive."
Kim Jong Un's Sister Arrives in South Korea (2:00 p.m.)
Kim Jong Un's sister landed at Incheon airport on Friday afternoon, marking the first time a member of the dynasty that has ruled North Korea since 1948 has officially entered South Korea.
Kim Yo Jong smiled as she greeted South Korea's unification minister at the airport, before leaving by limousine to take a high-speed train to the Winter Olympics in Pyeongchang. A potential future leader, Kim will attend Friday's opening ceremony and meet President Moon Jae-in for lunch on Saturday.
South Korea President's Popularity Unchanged (10:30 a.m.)
Moon's approval rating was unchanged at 63 percent as he headed into key talks with world leaders on the sidelines of the Winter Olympics. Moon's popularity had been falling in recent weeks as more younger voters disapproved of his support for North Korea's participation in the Olympics.
VIP List for Opening Ceremony (1:01 a.m)
The opening ceremony scheduled for 8 p.m. Seoul time includes a group of VIPs whose governments may determine whether the world sees a nuclear war. That has presented a few headaches for seat planners. Among the A-listers: Kim Yo Jong, Moon, U.S. Vice President Mike Pence and Japanese Prime Minister Shinzo Abe.
— With assistance by Peter Pae, Sohee Kim, Jihye Lee, and Toluse Olorunnipa
Before it's here, it's on the Bloomberg Terminal.
LEARN MORE