politics
Judge Taunted by Trump Hears Arguments on Border Wall
By
Environmentalists say lack of review imperils species

U.S. has asserted authority under federal immigration law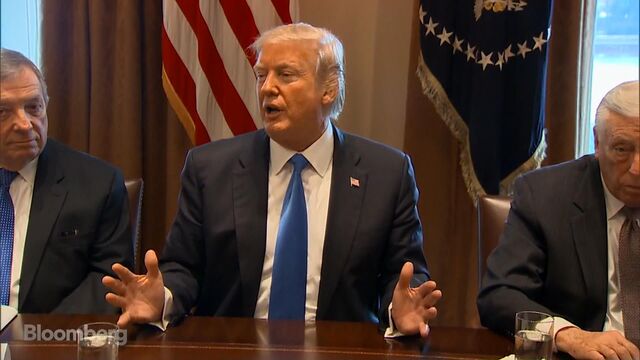 Butterflies or border security?
That was the question Friday before U.S. District Judge Gonzalo Curiel, who listened to environmental groups and the state of California argue why a section of President Donald Trump's proposed wall along the Mexican border shouldn't be constructed.
The Homeland Security Department has asserted authority under federal immigration law to waive compliance with environmental protection statutes because 14 miles of existing fencing near San Diego is "no longer optimal for border patrol operations." The government argues in court papers that the law allowing it to sidestep environmental reviews "has been repeatedly upheld in the face of legal challenges."
Trump, who made border security one of the cornerstones of his presidential campaign, has continued to insist that a border wall be constructed as the centerpiece of his efforts to control illegal immigration.
California and the environmentalists claim in court filings that the 1996 immigration law is unconstitutional and that the lack of environmental reviews would imperil endangered species including the Quino checkerspot butterfly and the Mexican flannel bush.
About That Wall Trump Said Mexico Will Pay For: QuickTake Q&A
The judge took the arguments under submission after peppering both sides with questions and asked them to file more written arguments over the issue of whether Homeland Security met the legal requirements of consulting with California and other affected agencies and parties.

Curiel is the judge in San Diego who presided in 2016 over a $25 million settlement to thousands of students who sued the then-candidate and his Trump University over what they said were false claims and misleading advertising about the benefits of the school, which was not accredited.
During the Trump University litigation Trump criticized Curiel's handling of the case and described him as a "hater" whose Mexican heritage -- he was born in Indiana to Mexican immigrants -- would prevent a fair outcome. The judge hasn't responded publicly to the president's comments.
In the border wall litigation, Curiel has granted a request by 24 members of the Congressional Hispanic Caucus to file a brief in support of the court order sought by California and the environmental groups against the federal government.
Curiel's approval of the Trump University settlement was upheld Tuesday by the 9th U.S. Circuit Court of Appeals, which unanimously rejected a challenge to the settlement, in which nearly 3,700 class-action plaintiffs will be paid about 90 cents on the dollar of their claims.
The case is Center for Biological Diversity v. U.S. Department of Homeland Security, 17-cv-1215, U.S. District Court, Southern District of California (San Diego).
(
Updates with hearing in sixth paragraph.
)
Before it's here, it's on the Bloomberg Terminal.
LEARN MORE