How Shutdown 2.0 Ended in the Blink of an Eye
By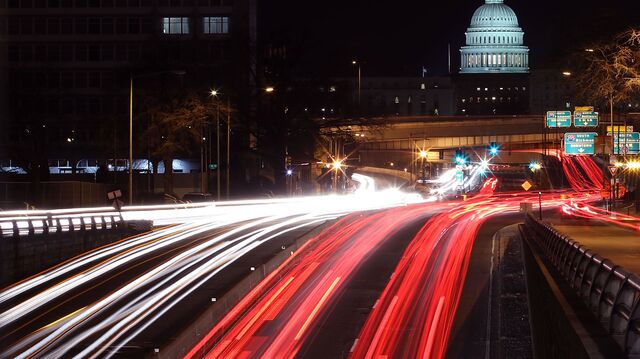 Want to receive this post in your inbox every morning? Sign up for the Balance of Power newsletter, and follow Bloomberg Politics on Twitter and Facebook for more.
Washington's shutdown deja vu is over before it ever really began.
The U.S. House earlier today passed legislation ending a partial government closure that technically started at midnight. It was the second minimally disruptive lapse in federal funding in less than three weeks and underscores that one-party rule doesn't guarantee smooth sailing for Republican lawmakers and President Donald Trump.
House Democratic Leader Nancy Pelosi's demands for an open debate and vote on immigration legislation combined with Republican Senator Rand Paul's objections to the measure's deficit spending to stymie action ahead of the deadline.
The drama played out against a backdrop of tumbling global stock markets. The benchmark S&P 500 index fell 3.75 percent yesterday — down more than 10 percent since its Jan. 26 peak. Stocks in Asia declined today.
The market rout served as a further warning for Republicans ahead of November's midterm elections and added pressure to resolve the dispute before U.S. markets open.
Trump has routinely taken credit for the stock market gains that dominated his first year in office, and he and fellow Republicans insisted Democrats were to blame for last month's shutdown. But the events of this week have blunted both of those messages.

Global Headlines
Raking in the cash | The 10 Senate Democrats facing re-election in states that Trump won in 2016 had a combined $71.3 million in their campaign accounts as of year's end, nearly four times more than their Republican opponents. The fundraising edge is a sign of how hard the party is working to convert donor anger with Trump into targeting the Republican majority in November's midterms.
Feeling bulletproof? | Donald Trump Jr. is tweeting like a man with nothing to fear from Special Counsel Robert Mueller. Never shy about defending his father, the younger Trump has dialed up his outrage, comparing Mueller's inquiry into Russian interference in the 2016 election to McCarthyism, the Salem witch trials and "the stuff you read about from banana republics." Margaret Talev explains how to interpret the recent barrage of comments from the president's eldest son.

Border wars | Pakistan is pushing for the completion of a fence along its disputed border with Afghanistan — and it wants the U.S. to help pay for it. Speaking in an exclusive interview, Foreign Minister Khawaja Muhammad Asif said the barrier will help prevent terrorism and cost Washington less than prolonging its war its 16-year-long war in Afghanistan. 

Warming up for the Olympics | After a week of frigid conditions, temperatures at the Winter Olympics in South Korea jumped above freezing — a topic of conversation among top officials from both Koreas as they waited to board a high-speed train to Pyeongchang for tonight's opening ceremony. With diplomatic tensions running high as the games get underway, Andy Sharp looks at the VIP guest list that could trigger a diplomatic nightmare.

Bookmark this report for weekend reading on how the dawn of the driverless car promises a utopia of stress-free commutes and the end of parking hassles, but threatens to complicate the calculus for anyone buying property. And this special page, "Life in Caracas," where we feature a new series of short stories on the surreal quality of life in Venezuela.
And finally … Beyond the fanfare of the flight displays at the Singapore Airshow this week, exhibition hall stands showoff the industry's future, particularly the relentless rise of drones, Anand Krishnamoorthy and Kyunghee Park report. From mockups to production models, there are drones that do everything from fly in underground tunnels and deliver packages to spy on your neighbor and bomb terrorists. With millions of drones being sold each year and prices falling, the focus now is on how to manage all these craft and prevent attacks using swarms of small unmanned aerial vehicles. 

Before it's here, it's on the Bloomberg Terminal.
LEARN MORE