Jacob Rees-Mogg's Hard Brexit Argument Pales at Cambridge Debate
By
Follow @Brexit on Twitter, join our Facebook group and sign up to our Brexit Bulletin.
Jacob Rees-Mogg, the bookmakers' favorite to become the U.K.'s next prime minister, has captured the zeitgeist among the grassroots of his own Conservative Party in recent months with his strident views in favor of the hardest of Brexits.
He attracted adoring crowds at the Conservative Party conference in October -- and one young supporter even tattooed "Moggmentum" across his chest. And on Thursday he helped draw a packed hall for a debate on Brexit at Cambridge University's Union Society, speaking for the motion "This house believes no deal is better than a bad deal."
Opposing him Andrew Adonis, a member of the House of Lords, sought to draw the attention of the young audience to Rees-Mogg's fustiness.
The Tory lawmaker is famous for his old-fashioned demeanor and old-school good manners. An alumnus of Eton, Britain's most famous private school, he regularly quotes Latin and is always impeccably turned out in a double-breasted pin-striped suit.
Dating 'Extinct'
Adonis got in early, complaining that the prize of a bike for the best speaker was only available to those on the backbenches of the hall, rather than those proposing and opposing the motion.
"We think we should be eligible and Jacob in particular wants to have the penny farthing if he wins," said Adonis, to laughs from the hall. A second jibe hit the mark too. After Rees-Mogg mentioned a Member of Parliament who had lost his seat, Lord Adonis referred to the MP as "extinct," adding: "We're all going to be extinct in due course, indeed Jacob was in many ways extinct many centuries ago."
Read more: Rise of an English Gentleman Threatens the Hardest of Brexits
His third shot was a bit labored, and attracted a few groans. Adonis told the hall that he had suggested Rees-Mogg would be a suitable loan to the French in exchange for their offer of the centuries-old Bayeux tapestry. They had rejected it, he said "because the Bayeux tapestry is altogether more recent than Mr. Rees-Mogg."

On Adonis's side, former Education Secretary Nicky Morgan joined in. She remarked that Rees-Mogg appeared to be wearing the same shoes that he had done when they first met 25 years ago at students at Oxford University.
As for Rees-Mogg, he hankered after incandescent light bulbs whose sale is now banned by the EU and said Britain should be free to use pesticides banned by the EU on environmental grounds. He even said that if Britain remains in the EU, the elderly will be forced to pay insurance on their mobility scooters.
In short, any deal on Brexit in which Britain doesn't take back control of its laws, borders and money would be a "betrayal," he said. He attracted plenty of laughter too, not least when an audience member intervened on the topic of farming to suggest Brexit would be disastrous for U.K. food supplies.
"I thought project fear had reached its apogee under George Osborne," he said, referring back to dire forecasts of the economic impact of Brexit made during the 2016 referendum campaign by the former chancellor of the exchequer. "Now we're going to starve because of leaving the European Union."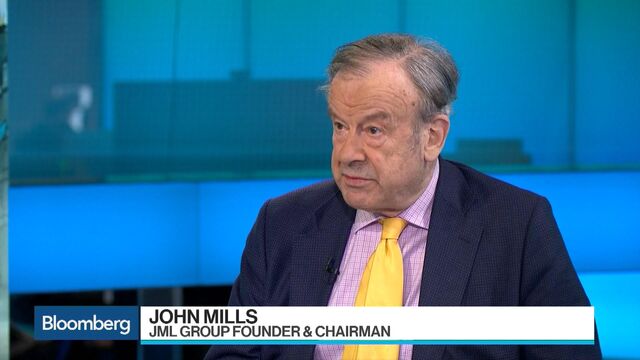 But ultimately, on Thursday there was only one vote that counted, and Rees-Mogg, for all his popularity among the Tories, failed to win over the students at Cambridge. Speaking alongside Labour Party donor John Mills and businesswoman Helena Morrissey he lost out to Adonis, Morgan, and Cobra Beer Founder Karan Bilimoria.
The final count? Forty percent for Rees-Mogg and company; 46 percent for those opposing no deal. How Adonis and Morgan must wish that was the referendum result in 2016.
Before it's here, it's on the Bloomberg Terminal.
LEARN MORE