FCA Pushes Back on U.K. Lawmakers' Deadline for RBS Report
By
Regulator says legal issues stop it from meeting Feb. 16 date

Lawmakers this week said RBS review couldn't remain private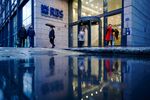 The U.K. Financial Conduct Authority pushed back on a request by lawmakers to rush out a much-anticipated report on Royal Bank of Scotland Group Plc's business lending practices.
FCA Chief Executive Officer Andrew Bailey said it is "highly unlikely" the regulator will meet the Treasury Committee's Feb. 16 deadline to publish the long-awaited document. Bailey, in a letter to the committee, said the FCA legally needs consent from witnesses and subjects cited in the report.
RBS's Global Restructuring Group, or GRG, came under scrutiny in 2013 after a government consultant claimed that small companies that owed money to the bank were pushed into difficulties to help bolster earnings, triggering the FCA review. In 2016 the bank agreed to pay 400 million pounds ($557 million) to address any damage to customers by a lender that had received a government bail-out during the financial crisis.
Committee Chairwoman Nicky Morgan on Wednesday asked Bailey to publish the report by the end of next week. She said that because versions of the paper had been selectively reported on by the media, a definitive version was needed to ensure that accurate information is made public.
In the letter, Bailey said the FCA would supply the report to the committee by the deadline if it received confirmation that this was necessary despite the legal issues.
Morgan said in a separate statement that she is "pleased" that the FCA is trying to meet the deadline.
Bailey said lawmakers will need to review whether they face the same legal constraints as regulators if the document is released by the committee.
Lawmakers "will no doubt want to consider carefully the precedent of publishing a document obtained from the FCA under parliamentary privilege where the FCA considers that it is legally constrained from publishing the document itself," he said.
Before it's here, it's on the Bloomberg Terminal.
LEARN MORE