politics
Egypt Declares Major Security Offensive With Vote Weeks Away
By
President El-Sisi set for second term in March election

Army has been battling militants in northern Sinai for years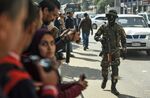 Egypt's security forces on Friday announced a "broad offensive" ranging from the militancy-hit Sinai peninsula to the Nile delta and western desert, vowing to tighten control of the country's land and sea borders just weeks ahead of a presidential election in March.
Air strikes targeted hideouts and weapons caches used in "attacks against law enforcement forces and civilian targets in northern and central Sinai," the state news agency MENA reported, citing an army spokesman. State television said three people were shot dead in Cairo, and 14 arrested, over a plot to attack the election that's set to deliver a second term for Abdel-Fattah El-Sisi.
It identified those targeted as members of Hasm, a group that emerged in 2015 and has claimed a number of attacks mainly against judicial and security officials. On his official Twitter account, El-Sisi said the armed forces and police were seeking to rid Egypt of "terrorists, the enemies of life."
Egyptian authorities have for years been battling militants affiliated with the Islamic State in the northern regions of Sinai, which border Gaza, Israel and the Suez Canal. The conflict has strained the country's effort to revive an economy battered by years of unrest.
El-Sisi is a career military officer who won the presidency a year after a military-backed popular uprising that ousted Islamist President Mohamed Mursi from power in 2013. Since then, he has launched a broad crackdown on the Muslim Brotherhood, which backed Mursi, leaving hundreds dead and thousands in jail. The offensive has since been extended to target activists and other dissenters, prompting critics to accuse the president of building a de facto police state.
In Egypt, Dismay at Revolution's Repressive Outcome: QuickTake
After a militant assault on a mosque in Sinai in November killed more than 300 people, El-Sisi told the military to restore security in the province's north within three months, authorizing the use of "brute force." He has also ordered air strikes across the border in Libya, blaming Islamist militants based in the country for aiding attacks inside Egypt.
The Nov. 24 mosque attack marked a shift in tactics for the group, which had largely targeted security forces and the Christian minority.
El-Sisi's only challenger next month is from a group that has endorsed the president's re-election bid, after other candidates either withdrew or were disqualified. Analysts have said the president considers his anti-terrorism stance has won him enough U.S. support to let him dispense with the pretense of a democratic election.
(
Updates with violence in Cairo in second paragraph.
)
Before it's here, it's on the Bloomberg Terminal.
LEARN MORE