technology
Britain's Amazon Obsession Puts Retailers at Breaking Point
By
E-commerce, led by Amazon, makes up 18% of U.K.'s retail sales

Weak holiday sales forced profit warnings from many chains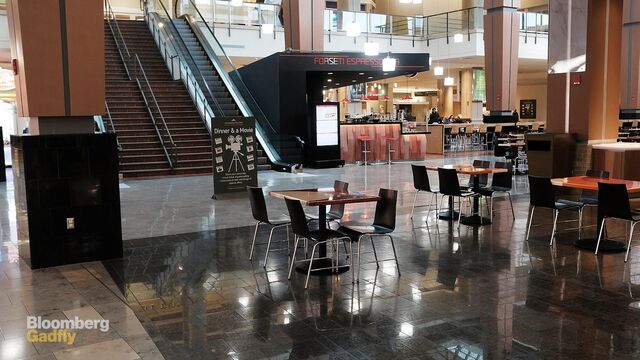 The U.K. is leading the way into an online-shopping future, and that has the country's traditional brick-and-mortar retailers fighting for their lives.
With 18 percent of retail sales taking place online in Britain, the stakes are even higher than in the U.S., where the comparable figure is 12 percent -- and where department-store owner Bon-Ton Stores Inc. has just become the latest victim of Amazon.com Inc.
Here are four charts that tell the story of the U.K.'s retail crisis.
The shift online has opened U.K. retail to new entrants with low overheads, driven down prices and sucked demand away from stores, while the Brexit-driven drop in the pound has inflated retailers' sourcing costs.
Weak holiday-season sales prompted profit warnings from department-store chain Debenhams Plc, carpet seller Carpetright Plc and childrenswear retailer Mothercare Plc. Reported profits of leading retailers Tesco Plc and Marks & Spencer Group Plc have more than halved in the past three years. Department-store owner BHS failed in 2016.
"The fallout we're seeing now is just the beginning," independent retail analyst Richard Hyman said by phone. "Our mess is much more spectacular than over in the U.S."
The Economist Intelligence Unit forecasts that U.K. retail sales will fall 0.4 percent in 2018, compared with a 2.4 percent increase in the U.S.
The U.K.'s dense population, widespread internet access and good road network have helped e-commerce flourish. Online sellers get favorable tax treatment, too.
Physical retailers pay levies called business rates on the rental value of stores, not their profits. While rising property prices have boosted those receipts to about 30 billion pounds a year, the U.K. has cut its corporate tax rate by more than a third, to 19 percent, in the past 10 years. For Amazon, that's a tax advantage it doesn't get elsewhere.
"We have got that balance wrong. We need to tax property less, and tax profits more," said Helen Dickinson, chief executive officer of the British Retail Consortium, an industry lobbying group that's pressing for tax changes.

More online shopping doesn't mean more profits. All of the U.K.'s largest grocers lose money from their online operations, according to Credit Suisse estimates. Competition has driven the standard charge for booking a delivery slot down from 5 or 10 pounds to nothing, in many cases.
"They were chasing growth at all costs," Bloomberg Intelligence analyst Charles Allen said by phone. "In hindsight, it's really difficult to see why they thought it was sensible."
Retailers are starting to apply lessons from countries like France, where collection points for online orders keep delivery costs lower. Walmart Inc. has begun installing pickup sites at its Asda stores in the U.K., like those in the U.S. where it offers discounts to customers who use them.
For the most part, however, British consumers are so accustomed to convenience that retailers are left to make the best of a bad situation.
"Since e-commerce took off, the question has always been: How do we make this work from an economic point of view?" Dickinson said. "We are still trying to answer that question."
(
Updates with sales forecast in seventh paragraph.
)
Before it's here, it's on the Bloomberg Terminal.
LEARN MORE