politics
Barnier Says EU Waiting for U.K. to Make Choices: Brexit Update
By and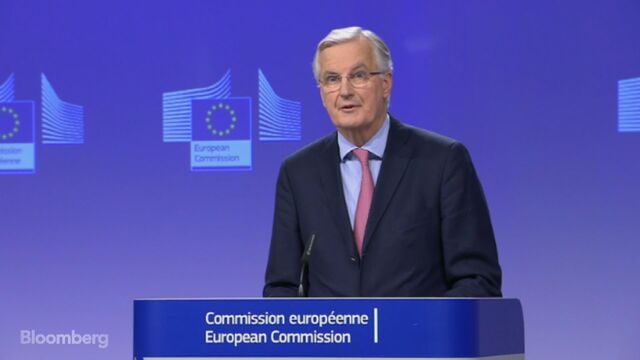 EU chief negotiator Michel Barnier briefs reporters on Friday as a week of Brexit talks winds up. On the agenda for Friday was an "update" from the U.K. on the future relationship.
Talks this week have focused on the transition arrangement that businesses want pinned down by the end of March and on the tricky issue of the Irish border.
We will be following the press conference and updating here in real time. Time stamps are London time.
Barnier Says EU Aims to Prevent Ireland Hard Border (12:22 p.m.)
Barnier says EU "will do what we can" to prevent a hard border between Ireland and Northern Ireland. Says EU is looking at the U.K.'s proposals on the issue.
Barnier Says Happy to Discuss Brexit With Anyone (12:10 p.m.)
Asked about his meeting with opposition Labour leader Jeremy Corbyn, Barnier says his door is open to everybody wanting to discuss Brexit, he also makes it clear he's only negotiating with Prime Minister Theresa May's government. "I don't want to make any further comment on domestic politics."
Barnier: U.K. Must Apply New EU Rules in Transition (12:03 p.m.)
"The U.K. asked for this period," Barnier said. "If we maintain the economic status quo, we maintain the integrity of the single market and the application of the rules that are in place to all those who benefit from it."
Barnier Says EU Waiting for U.K. to Make Choices (11:58 a.m.)
"We await with great interest the choices to be made by the British government," Barnier said. He also says the EU is aiming for October or November for a withdrawal agreement -- a sign the timeframe is slipping.
Barnier Says Transition Period Not a Given (11:54 a.m.)
Barnier says there are still "substantial" disagreements over the transition period.
The U.K. wants a decision by the end of March, "but at the same time, the U.K. told us a number of disagreements that I consider substantial."
Barnier Says Irish Solution Must Be 'Unambiguous' (11:51 a.m.)
Barnier said the fall-back option on the Irish border -- that Northern Ireland will remain aligned with the EU to avoid a hard border -- will be included in the legal text.
The solution on the Irish border must be "precise, clear and unambiguous." Leaving the customs union and single market will make border checks inevitable, he said.
Barnier Says EU Not Updated on U.K. Plans (11:46 a.m)
Barner says planned meeting to discuss the U.K.'s future relationship with the bloc was canceled due to "diary constraints" -- says meetings "will continue to take place regularly" and at any time David Davis wishes.
Earlier:
Never Compromise on Brexit Demands, PM May Said to Tell Team (1)
Davis Says EU Brexit Transition Threat 'Not in Good Faith' (1)
May Is Said to Plan Quick Cuts to Some EU Rules After Brexit (1)
U.K. Could Face Higher Brexit Bill as EU Demands Defense Funding
Before it's here, it's on the Bloomberg Terminal.
LEARN MORE