Zuma's Delayed Exit Tests Ramaphosa's Power in South Africa
By and
South Africa stuck in political limbo as president clings on

New ANC leader has limited window to act, analyst Mtimka says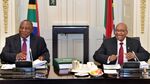 Less than two months after taking over the leadership of South Africa's ruling party, Cyril Ramaphosa is facing a key test of his authority: President Jacob Zuma just won't go away.
Zuma initially defied a decision by top leaders of the African National Congress that he should quit, but his exit seemed imminent when parliament on Tuesday postponed the annual state-of-the-nation address just two days before he was due to deliver it. On Wednesday Ramaphosa said talks about a leadership transition were continuing and would be finalized in a matter of days, leaving the nation in political limbo.
While Ramaphosa, 65, retains the upper hand in the power struggle, he has a limited window of opportunity to act decisively against Zuma, according to Ongama Mtimka, a political science lecturer at the Nelson Mandela Metropolitan University in the southern city of Port Elizabeth.
"Ramaphosa doesn't want this process to be seen in any other light than one that is led by himself," Mtimka said by phone. "The more days that pass, the weaker he is going to become. If he delays much longer, then he is going to have problems."
Balance of Power
While the balance of power shifted in December when Ramaphosa won the ANC's presidency, Zuma, whose nine-year tenure has been riddled with scandal, retains considerable backing. An acrimonious exit would heighten the risk of splitting the ANC, and with elections looming next year, that's a scenario Ramaphosa wants to avoid.
"He always tries to maintain some sort of balance between trying not to isolate Mr. Zuma's people and at the same not isolating those people who want him to go," said Zwelethu Jolobe, a political science lecturer at the University of Cape Town. "I don't think that he wants to remove him at all costs. His thinking is more along the lines of what are the long-term consequences for the party."
A protracted and messy exit for Zuma won't go down well with investors, who are counting on Ramaphosa to fulfill his pledge to revive the flagging economy, create greater policy certainty and clamp down on the alleged corruption that's characterized Zuma's administration.
Graft Charges
The National Prosecuting Authority is due to decide within weeks whether Zuma will face multiple charges of bribery and corruption related to an arms deal in the 1990s. A commission of inquiry is also due to probe allegations he allowed his friends, the Gupta family, to influence government appointments and the awarding of state contracts.
Ramaphosa told the ANC's parliamentary caucus in Cape Town on Wednesday that the option of granting Zuma immunity wasn't on the table, according to two lawmakers who were present and spoke on condition of anonymity. Ace Magashule, the party's secretary-general, told reporters after the meeting that no timeline had been set for concluding talks with Zuma.
The rand weakened 1.3 percent against the dollar on Wednesday, partly on indications that Zuma may cling onto power for a while longer, and dropped as much as 0.6 percent on Thursday. It was little changed at 12.0718 per dollar at 5:39 p.m. in Johannesburg.
No-Confidence Vote
Should he not resign, only parliament has the power to remove the 75-year-old Zuma because South Africa's president is chosen by the legislature, not by a direct election.
A motion of no confidence in Zuma proposed by the Economic Freedom Fighters, the third-biggest party, is due to be debated on Feb. 22, while the Democratic Alliance, the main opposition party, wants it brought forward to next week.
"South Africa cannot continue to be held in limbo while Cyril Ramaphosa and Jacob Zuma, and their respective factions, continue to fight over the terms of Zuma's exit," DA leader Mmusi Maimane said Thursday. "We need a swift resolution to this impasse as soon as possible."
'Just Relax'
A negotiated settlement is likely to be reached with Zuma within the next few days, enabling Ramaphosa to become president and deliver the state-of-the-nation address before the presentation of the national budget on Feb. 21, according to Robert Besseling, executive director of political risk advisory firm EXX Africa.
"Once he secures the national presidency, Cyril Ramaphosa is likely to announce a wide-ranging and high-profile anti-corruption campaign in order to weaken his political rivals and consolidate his authority over the ANC and the government," Besseling said by email.
Ramaphosa and his backers say the process of removing Zuma should be allowed to run its course.
"Just relax," Derek Hanekom, an ANC lawmaker, former tourism minister and one of Zuma's most outspoken critics, said on Twitter. "We can surely all live with a few days delay."
(An earlier version of this story was corrected to show the budget is on Feb. 21.)
— With assistance by Amogelang Mbatha, and Sam Mkokeli
Before it's here, it's on the Bloomberg Terminal.
LEARN MORE