Warner Wants Russia Probe to Delve Deeper With Tech Companies
By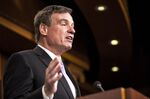 Senator Mark Warner said he's not finished pressing the technology companies whose networks were exploited by Russia during the 2016 presidential campaign and beyond.
The Democratic vice chairman of the Senate Intelligence Committee has been the leading lawmaker pressing Facebook Inc., Twitter Inc. and Alphabet Inc.'s Google to search their archives for evidence of Russian interference and collusion, and to harden their networks against a continuing effort to interfere in elections in the U.S. and its allies.
He said Thursday he's not yet satisfied.
"That's something that we're working through," said Warner of Virginia. "I see this as election security first, then next steps around social media, and ultimately we'll still have to get to the questions around potential collusion," he said in an interview at the Capitol.
Warner said he wants to talk to Intelligence Chairman Richard Burr about plans for social media companies, and he hopes to have something to announce as soon as next week.
"There's a wide variety of options that we're going through," he said, declining to list specific actions until speaking to the Republican chairman.
Facebook told a Senate committee in January that it has detected "only what appears to be insignificant overlap" between targeting of ads and content promoted by a pro-Kremlin Russia group and by Donald Trump's presidential campaign.
Before it's here, it's on the Bloomberg Terminal.
LEARN MORE