North Korea Is Winning the Olympics Before They Even Start
By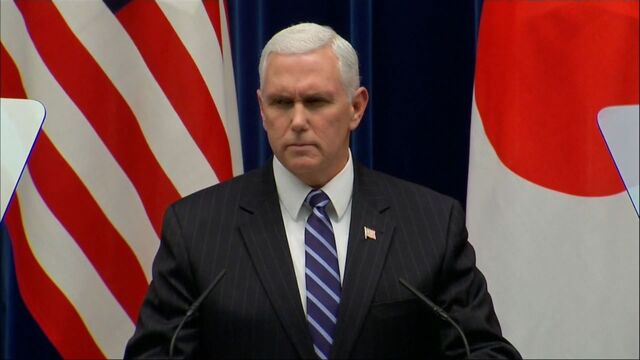 While North Korea isn't expected to bring home many medals from the Winter Olympics in South Korea, Kim Jong Un has already won more than he could've hoped.
Kim has been putting pressure on the U.S.-South Korean alliance by exploiting optimism in Seoul that joining the Olympics under one banner could foster peace talks. South Korean President Moon Jae-in granted another concession today, agreeing to meet a delegation from Pyongyang that could include Kim's sister.
The breakthrough came as U.S. Vice President Mike Pence, Japanese Prime Minister Shinzo Abe and other world leaders head for tomorrow's opening ceremony. Pence hinted at a meeting, telling reporters in Japan, "there may be a possibility for any kind of an encounter with North Koreans, whether it be informal, or whether it takes the form of a meeting." 
But any hopes that the diplomatic dance would lead to talks over Kim's weapons program were tempered by shows of force. While Pence pledged that the U.S. would stop North Korea from threatening his homeland, Kim paraded mobile missile launchers through Pyongyang.

Want to receive this post in your inbox every morning? Sign up for the Balance of Power newsletter, and follow Bloomberg Politics on Twitter and Facebook for more.
Global Headlines
Pelosi flexes her muscle | A bipartisan budget deal that would avert a government shutdown at midnight is set to pass the U.S. Senate today but could careen off track in the House, where Democratic Leader Nancy Pelosi and some conservative Republicans are raising objections. Pelosi has vowed to reject the measure unless she's promised an open immigration debate, a demand she drove home with an unprecedented eight-hour floor speech.
West Wing resignation | White House aides had heard of domestic violence allegations against Trump's staff secretary before published reports led to Rob Porter's resignation yesterday, Jennifer Jacobs reports. Officials said Trump himself was unaware. It's the latest shakeup to rock Trump's inner circle and exposes the administration to fresh questions about the president's attitude toward women.
Merkel's long wait | Germany's struggling rust belt will be key for Angela Merkel as rank-and-file Social Democrats vote on a hard-won coalition pact. The slow death of unions and industrial jobs is decimating the Social Democrats in cities such as Duisburg, the world's biggest inland port, making the ballot especially difficult to call. Starting a term as chancellor has never been harder for Merkel.
Yemen chaos spreads | Glen Carey went to the front lines of the war in Yemen — and, some say, of Saudi Arabia's wider struggle with Iran. As Saudi troops make gains against Houthi fighters in the north, trouble is brewing in the south, where allies are turning on each other. The conflict has killed more than 10,000 people and displaced 2 million.

'Cash and carry'  | That's how many Nigerians describe their helter-skelter politics as candidates switch parties with little regard to ideology in their bid to gain access to government funds. With general elections still a year away, the defections have already started what local analyst Clement Nwankwo calls the contest to capture state power for personal use. 
And finally… Bitcoin investors counting on a rush of fresh money to lift slumping fortunes face a new obstacle: disinterest. Online searches for the term "Bitcoin" have tumbled alongside the price. While the price drop is seen as par for the course by crypto veterans, it appears the red-hot demand for information on the digital currency has burned out for many others.

— With assistance by Kathleen Hunter, Tony Czuczka, Andrew J Barden, and Karl Maier
Before it's here, it's on the Bloomberg Terminal.
LEARN MORE