New Era of Currency Volatility Leaves Bearish Dollar Bets Intact
By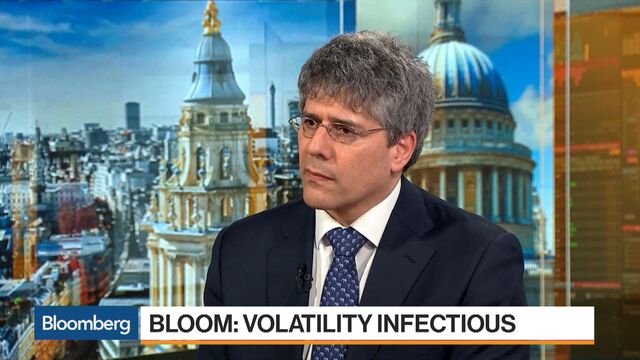 The latest turbulence in China's yuan only adds to the complexity of a bruising stretch for global currency markets. Yet for some money managers and strategists, the path forward couldn't be more simple: a weaker dollar.
For these observers, the dollar's rebound amid the biggest burst of foreign-exchange volatility since 2015 is bound to be short-lived. The Bank of England reminded investors on Thursday of the robust growth outlook overseas, and the investment opportunities that are luring cash from the U.S. Traders are also on alert for signs that other central banks are joining the Federal Reserve in withdrawing stimulus. 
While the greenback could benefit from haven buying as a result of the turmoil in equities, that support could soon dissipate: The backdrop for the dollar remains bearish for the next 12 months, according to Eaton Vance Corp.'s Eric Stein.
"You would expect we'd be in a higher volatility world for a variety of asset classes, and FX is one of them," said Stein, co-director of global fixed income. "Global growth is good, and that has tended to a weaker dollar. Medium-term, given that the U.S. is later in the cycle, you're probably in for a period of dollar weakness."

Positioning in the options market also suggests that traders are banking on the dollar to extend last year's almost 9 percent decline.
For example, three-month risk reversals, a barometer of sentiment and investor positioning, show that the cost of protecting against dollar losses versus the yen exceeds the cost to hedge dollar gains, by the most in almost a year. And investors still favor greenback losses versus the euro.
That indicates the dollar stands to fall even as volatility climbs on the heels of shifting monetary policy, according to Bipan Rai, North American head of foreign-exchange strategy at Canadian Imperial Bank of Commerce.
"There's been this view over the last several years that rising volatility is generally bullish for the dollar, but that's not always the case," he said. "Rising volatility doesn't necessarily have to correlate to a stronger dollar rather than a stronger euro or stronger yen."
— With assistance by Robert Fullem
Before it's here, it's on the Bloomberg Terminal.
LEARN MORE