Moon Schedules Lunch With North Koreans as Kim Parades Weapons
By and
Meeting highlights diverging interests of U.S. and key ally

Kim's sister may bring message from North Korean leader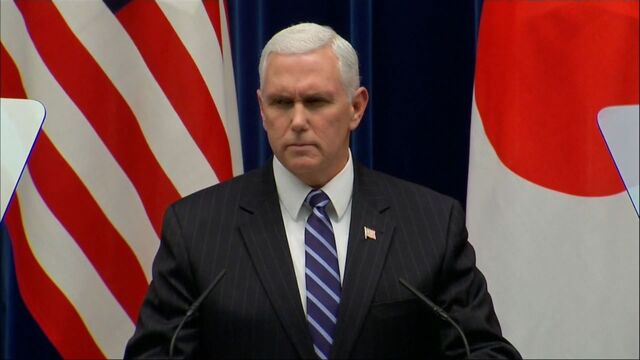 South Korean President Moon Jae-in scheduled lunch with high-ranking North Korean officials on Saturday, an announcement that came after Kim Jong Un oversaw a massive military parade in Pyongyang.
Moon's government didn't say which officials would attend the meeting. Kim's sister, Kim Yo Jong, will join the North Korean delegation at the Winter Olympics opening ceremony in Pyeongchang on Friday, becoming the first Kim dynasty member to travel below the 38th parallel dividing two nations technically still at war.
Kim Jong Un rallied North Korea's soldiers on Thursday, smiling widely in a black coat and fedora as goose-stepping troops marched around a main square in Pyongyang. In a rousing speech, he said the parade "shows North Korea's status as a global military power."
The procession included at least four mobile launchers bearing Hwasong-15 rockets, an intercontinental ballistic missile first tested in November that experts believe capable of reaching Washington.
North Korea has stolen the spotlight at the biggest Winter Games in history, with media from around the world fixated on the nuclear-armed nation rather than the athletes. While North Korea's participation has raised hopes of peace talks, the regime has refused any discussions about getting rid of its nuclear arsenal.

Moon met later on Thursday with Vice President Mike Pence, who is leading the U.S. delegation. South Korea wanted North Korea to participate to ensure the Games went off safely and to help alleviate tensions that have sparked concerns of a nuclear war.
Moon told Pence the U.S. and South Korea had "airtight" cooperation and hoped the Olympics could lead to denuclearization of the peninsula. Pence called the alliance "unshakeable."
How North Korea Managed to Crash the Olympics Party
The Trump administration has sought to prevent North Korea from using the Games to weaken sanctions and drive a wedge in its alliance with South Korea. The U.S. hasn't ruled out a preemptive strike to eliminate North Korea's nuclear threat.
Kim Jong Un promoted his sister last year to the ruling party's political wing. Analysts have speculated that she may bring a message to Moon from her brother, and potentially an invitation to travel north for a rare inter-Korean summit.
"This move to send the young sister is brilliant," said Brad Glosserman, a visiting professor at Tama University in Tokyo who has written books about regional security. "It sends the right message about historic opportunities, shows willingness to send someone who's actually got some juice with KJU."
New Missiles
North Korea initially refrained from broadcasting the military parade live, and eventually played a tape of the event on state media. About 13,000 troops participated while 50,000 spectators watched the event that started around 10:30 a.m., the Yonhap News Agency said, citing an unidentified South Korean government source.
Markus Schiller, a weapons expert with ST Analytics in Munich, said the nine-axle trucks carrying the Hwasong-15 missiles looked like extensions of eight-axle units, suggesting the regime was in short supply. Schiller also identified what appeared to be new solid fuel rocket based on short-range Russian ballistic missile.

"Kim's keeping everyone guessing," said Bong Youngshik, a researcher at Yonsei University's Institute for North Korean Studies in Seoul. "North Korea held the parade to ingrain belief in the people that North Korea has truly become a nuclear power. But it also needed do tone down its rhetoric and actions as a peace initiative toward South Korea during the Olympics."
Pence has signaled that he'd be open to meeting with North Korean representatives attending the Games, while also saying the U.S. was ready to act against Kim's regime if necessary. Kim's sister and some other officials are subject to sanctions for heading the nation's propaganda department, so any contact with Pence could constitute a violation.
Read here about Kim's propaganda coup in sending his sister
Analysts also see a possibility the warmer ties between the two Koreas could lead to a further postponement of planned U.S.-South Korea military exercises around the peninsula -- drills that North Korea uses as justification for its weapons program.
Moon's administration was clearly seeking to extend the current detente and isn't overly keen to conduct the drills, according to John Delury, an associate professor of Chinese studies at Yonsei University in Seoul.
"President Moon has been very clear, that this is designed as a starting point to change the dynamics," Delury said. "So just saying, 'Oh great, the Olympics are over and we can go back to the military exercises' -- that's not the goal."
— With assistance by Isabel Reynolds, Shinhye Kang, and Kanga Kong
Before it's here, it's on the Bloomberg Terminal.
LEARN MORE