markets
Icahn Target SandRidge Drops C-Suite Under Activist Pressure
By
Directors slash drilling, corporate budgets amid shakeup

Shale driller mulling unsolicited buyout by Midstates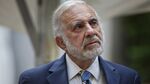 Activist investor Carl Icahn just got another win in his crusade against SandRidge Energy Inc.'s top management.
The Oklahoma City-based shale driller replaced Chief Executive Officer James Bennett as well as CFO Julian Bott on Thursday and announced drastic cuts to its drilling budget and corporate overhead.
The shakeup comes after the billionaire activist investor successfully pressured SandRidge to abandon plans to acquire rival Bonanza Creek Energy Inc. Icahn voiced "grave concerns" about the company's governance. Earlier this week, Midstates Petroleum Co. made an unsolicited takeover offer that valued SandRidge at about $589 million as of Monday's closing price.
"The large shareholders were pretty clear that they were pretty unhappy with management," Timothy Rezvan, managing director of equity research at Mizuho Securities USA in New York, said by telephone. "We viewed this as a when not an if."
The driller's fall from grace has been steep: Once valued at more than $11 billion in 2008, the company is now worth about $574 million after emerging from bankruptcy in 2016. Requests for comment left with SandRidge and Icahn's office weren't immediately returned.

Icahn has already expressed demands that the company still hasn't met. He said he intends to nominate one new director to the company's board at its annual general meeting. On top of that, directors that backed Bennett are still in the equation.
"James Bennett guided the company through a challenging period of financial distress," John Genova, chairman of the board, said in the statement. But "the board has determined that the time has come to transition to new leadership."
Bill Griffin, who was an independent director, will step up to serve as Interim CEO while the company reviews other candidates. Mike Johnson will serve as interim CFO. The company also announced Sylvia Barnes, owner of a privately held oil and gas investment company, as an independent member of the board.
The producer plans to spend up to $190 million in 2018, down from $247 million the previous year, according to a letter to shareholders. Its focus will remain on the Stack play in the Mid-Continent. It also hopes to reduce general and administrative costs by one-third.
Midstates said its takeover offer already had the support of the two largest shareholders, Fir Tree Partners and Avenue Capital Group. The merger would unite two drillers who are focused on the Mississippian Lime, a formation sitting below Oklahoma and Kansas. Other companies have got out of the play because of its expense: On Tuesday, Chesapeake Energy Corp. announced it was selling $500 million in assets in the formation.
Before it's here, it's on the Bloomberg Terminal.
LEARN MORE