markets
Fed's Kaplan Says Market Volatility 'May Be a Healthy Thing'
By and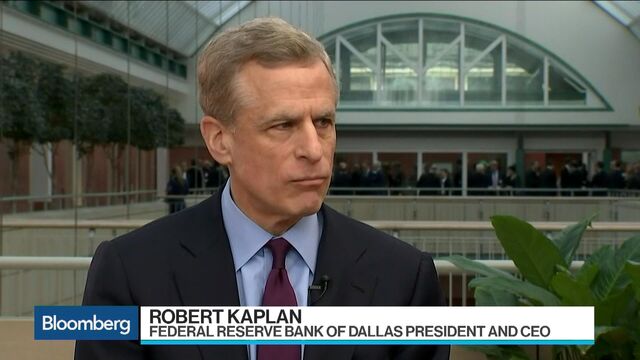 Federal Reserve Bank of Dallas President Robert Kaplan said the recent financial market upheavals may actually be beneficial and he doesn't expect them to have a negative impact on the economy.
"More volatility in the markets, and maybe addressing some of the excesses and imbalances in the markets, by having a little more volatility, may be a healthy thing," he said in an interview with Bloomberg Television's Manus Cranny, adding that the preceding months of smooth sailing were "historically unusual."
Treasury yields have risen and stock markets plunged at least in part due to investors' concern that the Fed may pursue additional rate increases this year as inflation finally picks up toward the central bank's 2 percent goal. The VIX index, which uses derivatives to track expected volatility in U.S. stocks, has spiked in recent days after months of calm, causing substantial losses for investors who had been making returns betting against its rise.
Kaplan, 60, does not vote on monetary policy this year. He has been growing increasingly confident in the economic outlook in recent months, saying last week that he now feels more firmly that three rate hikes will be appropriate in 2018, though six months ago he might have said two to three.
"I'll be watching carefully to make sure it does not transmit, though, to tighter financial conditions or spillover to the economy," he also said. "But at this point, I'd be optimistic that it won't."
Before it's here, it's on the Bloomberg Terminal.
LEARN MORE