Senate Panel Advances Goodfriend's Fed Nomination by Thinnest Margin
By
Republican Paul says he won't support Goodfriend in final vote

Party-line committee decision signals deep Democrat opposition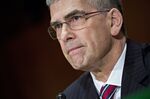 The chances that President Donald Trump's nominee for the Federal Reserve Board, Marvin Goodfriend, will get confirmed in the U.S. Senate took two big hits on Wednesday.
The Senate Banking Committee narrowly approved the nomination along party lines, 13-12. That signaled Democrats will vote in force against the Carnegie Mellon professor in a vote before the full chamber, leaving little room for Republican defections.
Later on Thursday, Republican Senator Rand Paul of Kentucky said he will oppose Goodfriend's confirmation.
If Democrats can muster all 49 of their votes to oppose, and if Arizona's John McCain cannot attend a floor vote, that might sink Goodfriend's chances. McCain is home fighting brain cancer.
Goodfriend, a former research director of the Richmond Fed, faced opposition from some Democrats from the start because of his views emphasizing the importance of keeping inflation close to the Fed's 2 percent target over its other mandated goal of maximizing employment. His support among moderate Democrats has significantly weakened since a contentious confirmation hearing last month in which he struggled to defend his views.
Paul has been critical of Goodfriend's research arguing that negative interest rates should be considered in the event of a severe recession.
Paul was also among four Republicans who voted against Trump's nominee for Fed chairman, Jerome Powell, when he was approved by the Senate on Jan. 23 by a tally of 84 to 13.
Before it's here, it's on the Bloomberg Terminal.
LEARN MORE