Draghi Says Regulators Should Make It Easier for Banks to Merge
By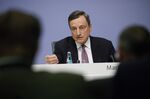 Mario Draghi agrees with at least some of Europe's top bankers on barriers to consolidation in the industry.
In a letter to a European Union parliamentarian on Thursday, the European Central Bank president said more harmonized rules across the bloc would make it easier for banks to merge, potentially making them more efficient. Earlier in the day, Commerzbank AG Chief Financial Officer Stephan Engels cited regulation as a hindrance to deals, saying combining two banks would likely result in "even higher" capital requirements for the new entity.
European banks are struggling to raise profitability as they contend with bad debt, record low interest rates and the disruption of their business models by financial-technology startups. Mergers can be one solution, but regulation put in place after the credit crunch and sovereign debt crisis to protect taxpayers is a tall hurdle for would-be dealmakers.
"Banking sector consolidation could be a way to help reap economies of scale and allow banks to become more efficient," Draghi wrote. "The regulatory treatment of domestic and cross-border banking groups needs to be aligned further, particularly as differences in such treatment no longer have a prudential justification, given the progress towards a complete banking union."
He cited the possibility of cross-border capital waivers for euro area subsidiaries as one issue regulators could tackle to make it easier for banks to merge.
While the ECB directly supervises the euro area's 119 biggest banks, regulation is the task of the European Commission and national authorities in cases where rules can be applied locally.
While not specifically referring to his own bank, Engels said Thursday that mergers in the industry could well happen, though not "as quickly as some people hope for." That echoed comments Deutsche Bank Chief Executive Officer John Cryan made last week, saying his firm wasn't ready to join with a competitor and would only consider deals in the future.
"You will have to wait for some homework to be done by each bank so that shareholders will get a lot more clarity on what's down the road," Axel Weber, chairman of Switzerland's UBS Group AG and the former head of Germany's central bank, said in a separate interview on Bloomberg TV Thursday. "I think it's a bit too early, unless banks come at a huge discount, to talk about European consolidation."
Draghi took a similar position, saying lenders themselves also need to "reduce uncertainty surrounding the quality of their legacy assets" to make mergers more attractive.
Before it's here, it's on the Bloomberg Terminal.
LEARN MORE