Davis Says EU Threat Over Brexit Transition 'Not in Good Faith'
By
Brexit secretary says U.K.'s end-state plan still 'incomplete'

Davis: EU 'unwise' to threaten single market suspension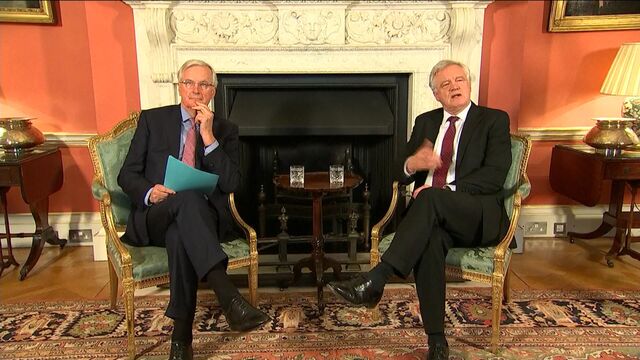 As British ministers struggle to agree on what they want from Brexit, the U.K.'s chief negotiator accused the European Union of being "discourteous" and acting in bad faith.
Brexit Secretary David Davis slammed the bloc for threatening to suspend some benefits of single-market access if the U.K. violates any EU laws during a two-year transition period being lined up for when the country leaves.
"I do not think it was in good faith to publish a document with frankly discourteous language, and implying that they could arbitrarily terminate in effect the implementation period," Davis told reporters in London on Thursday. "We think it was unwise to publish that."
His comments came after a key meeting of U.K. cabinet ministers broke up without reaching a final agreement on what kind of relationship the government should try to negotiate with the EU.
Davis and Prime Minister Theresa May face mounting pressure to lay out precisely their vision for the so-called "end-state" deal between the U.K. and EU. Talks have already started on details of the transitional period, and negotiations on a long-term future trade deal are due to begin next month. 
The European Commission issued a draft document this week on the bloc's negotiating position for the terms of the U.K.'s departure, including financial provisions that go beyond what the two sides agreed last year and details on a transition period that businesses are desperate to pin down. The Commission reiterated that the U.K. will have to abide by EU laws -- including any changes made during the transition -- without having a say in the decision-making.
Failure to comply could result in a unilateral suspension of some single-market benefits, the Commission said, triggering Davis's criticism. "I have to say I thought that document was hardly a legal document, it was a political document," Davis said. "What we're about is building an implementation period which is to build a bridge to a future where we work well together."
Davis was speaking after Prime Minister Theresa May's ministers met for a second day to try to hammer out the government's goals for the final trade partnership. The first session on Wednesday lasted 2 1/2 hours, and covered immigration and the Irish border question, but broke up without agreement. Thursday's discussions on trade went on for two hours, May's spokesman said.
"There's still progress to be made, there are still things incomplete," Davis said of the meeting.
Before it's here, it's on the Bloomberg Terminal.
LEARN MORE