Australia's Lowe Sees No 'Strong Case' for Near-Term Rate Move
By
Rates will move up only on further progress in jobs, inflation

Recent stocks volatility hasn't affected growth outlook: Lowe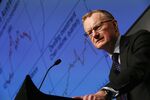 Australian central bank Governor Philip Lowe said he doesn't "see a strong case" for a near-term interest-rate adjustment, reiterating he isn't obliged to follow a global withdrawal of stimulus.
"Our circumstances are a little different," Lowe said in remarks to be delivered in Sydney Thursday evening. "We are still some way from what could be considered full employment and our central scenario for inflation is for it to remain below the mid-point of the medium-term target range for the next couple of years."
The Reserve Bank of Australia chief said he expects to see progress on reducing the jobless rate and moving inflation to the mid-point of its 2 percent to 3 percent target. If that happens, "at some point it will be appropriate for interest rates in Australia to also start moving up," he said.
Lowe added that a floating exchange rate has allowed countries like Australia, which didn't lower interest rates to the "extraordinary low levels" seen elsewhere, to retain flexibility in setting policy based on domestic factors. The central bank on Tuesday left the cash rate at a record low 1.5 percent for a 16th straight meeting.

The speech's policy outlook is similar to the one Lowe articulated in late November -- though data since then has been stronger. Employment is booming, business is investing and trade with Asia is intensifying as the global economy strengthens, he noted. Yet wage growth remains weak, discouraging spending and making it tough for households to pay down their debts, the RBA chief said.
Amazon Effect
Lowe again referred to the restraining influence exerted by a globalized labor market on pay packets, noting such powerful forces aren't about to disappear quickly, so any pick up in wage growth "is likely to be fairly gradual."
Asked after his remarks whether the arrival of Amazon.com Inc. in Australia last year will prolong a period of retail deflation, the governor said he expected price weakness in the industry would "persist for quite some time."
The RBA chief noted that since the arrival of foreign competitors, the price of supermarket food hasn't moved for five or six years; meanwhile, clothing and footwear prices were down 3 percent last year -- a boon for consumers -- as global retailers entered areas where they hadn't been in the past.
"They're shaking up the Australian industry," Lowe said. "They're forcing the Australian retailers to come up with efficiency savings. So the process has further to run. It's hard to know exactly how far but I think it's got a way to go."
In his remarks, the governor also said the international market gyrations of recent days haven't affected the RBA's forecast for the economy to grow "a bit above" 3 percent for the next couple of years. He noted the updated quarterly economic forecasts to be released Friday morning "will be largely unchanged" from those put out three months earlier.
"Given recent developments in Australia and overseas, it is likely that the next move in interest rates in Australia will be up, not down," Lowe said. "If this is how things play out, the likely timing will depend upon the extent and pace of the progress that we make. As I have discussed, while we do expect steady progress, that progress is likely to be only gradual."
Before it's here, it's on the Bloomberg Terminal.
LEARN MORE