markets
Snap Gets a Boost From Analysts After Its First Earnings Beat
By and
Analysts see inflection point in faster ad revenue growth

User trends may improve further as app redesign rolls out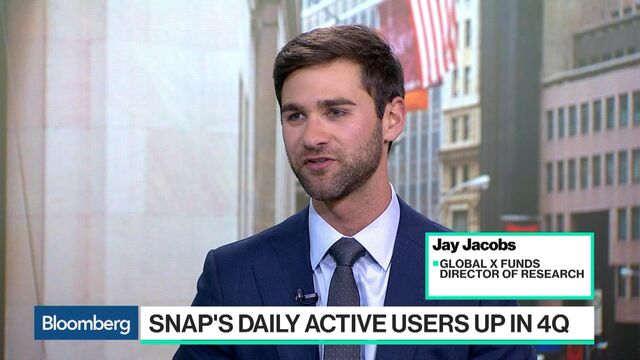 Snap Inc.'s first earnings beat as a public company, prompted at least five upgrades from analysts after the social-media company reported fourth-quarter revenue and daily active users ahead of estimates. The results blindsided short sellers who prompted upgrades from at least five analysts, and garnered a Street-high price target of $24 from Bank of America Merrill Lynch.
Analysts lauded the reacceleration of daily active user growth and advertising revenue growth, better-than-expected average revenue per user and the impact of the app redesign. Still, some remained skeptical, with Morgan Stanley noting the potential that revenue trends could slow in 2018, while Susquehanna downgraded the stock amid competitive pressures from Facebook Inc.'s Instagram.
Snap climbed as much as 33 percent at 9:45 a.m. in New York, trading above its $17-per share IPO price for the first time since July. Here's a roundup of what analysts are saying about Snap's results.

RBC, Mark Mahaney
Mahaney raised the stock to outperform from sector perform, lifting the PT to $21 from $15.
"We thought that the company's app redesign, its Android overhaul, and its auction-based ad inventory pricing could cause DAU and ad revenue growth to reaccelerate. We thought the timing would be H2:18. We were both right and wrong. The reacceleration and the inflection are here."
The inflection is sustainable due to more future benefits from the Android overhaul, upside ahead for ad pricing, more user engagement as the app redesign rolls out and operating expense leverage as the company moderates employee growth.
JPMorgan, Doug Anmuth
Anmuth upgraded to neutral from underweight and raised the PT to $16 from $10.
"Snap's transition to an auction-based ad platform is yielding better early results than we anticipated, driving upside to 4Q numbers across the board."
"We've never doubted Snap's ability to gain leverage through the P&L, but more how quickly the company can drive top-line growth."
Fourth-quarter revenue was 14 percent above expectation and showed a significant improvement in leverage with record-high gross margin. He's also more optimistic now on Snap's new app redesign.
BofAML, Justin Post
Post upgraded to buy from neutral, bringing his price target to a Street-high $24 from $16.
"We expect investors to view the quarter as somewhat of an inflection, and we see multiple positive upcoming events in 1Q. Data points in 4Q suggest that Snap's programmatic platform and strong advertiser adoption have helped turn the corner on monetization."
He notes that Snap has weathered significant competitive pressure in 2017, with increasing time spent on the app, and could see improving user trends in 2018.
Evercore ISI, Anthony DiClemente
He upgraded the stock to in-line from underperform, and raised the price target to $13 from $7.
"Ad revenue reaccelerated in the 4Q as a result of strong seasonal trends for branded advertising, demand for new ad formats, as well as steadily improving user trends."
Susquehanna, Shyam Patil
Patil dowgraded Snap to negative from neutral and cut the price target to $7 from $10.
"While 4Q cleared a low bar, we remain cautious on Snap's forward prospects. A tough competitive landscape, saturated core demo (and a weak presence outside the U.S.) and lackluster ad products (with subpar ROIs) create a difficult backdrop."
"Almost all of our social ad checks have been cautious on Snap. Many are seeing declines in the number of advertisers spending on Snap, noting that advertisers believe the company has poor strategic direction, lackluster ad products, subpar ROIs, limited demographics, and insufficient ad tech infrastructure."
Jefferies, Brent Thill
(Hold, raises PT to $17 from $15)
"A good quarter doesn't change our fundamental view that Snap has its work cut out to continue to deserve a premium multiple. Snap showed improvement in key metrics DAU and ARPU, but work remains on scaling profitability on a revenue base that lags social peers."
He cites three notes of caution heading into 2018: the full roll-out of app redesign may increase churn; margins continue to be negative, though are improving; continued lack of guidance from the company.
Continues to prefer Facebook over Snap for exposure to social media.
Morgan Stanley, Brian Nowak
(Underweight, raises PT to $11 from $10)
"4Q was better than expected but 2018 deceleration commentary, still-existing uncertainties around monetization, and turnaround limit revisions keep us cautious."
"Note that the company is not disclosing the growth or trajectory of total advertisers on Snap or spend per advertiser trends in the auction market, which, in our view, are more important to assessing the sustainability of this turnaround."
Piper Jaffray, Sam Kemp
(Neutral, raises PT to $17 from $12.50)
"The beat was largely due to the drastic reduction in Street estimates after 3Q; judged against pre-3Q expectations, Snap missed its key major metrics."
Still, "Snap appears to be making progress on its product and advertising business."
Sees management's first-quarter revenue commentary as very conservative. Longer-term, Kemp says it is premature to declare Snap's structural headwinds solved.
GBH Insights, Daniel Ives
(Attractive, PT $17)
"This eye popping top-line beat was a 'shocker' and was a stark contrast to the overwhelming bear sentiment heading into the 4Q print."
Better-than-expected average revenue per user will be a major focus and will probably expand in the low 30 percent to 35 percent range in 2018, although is still well below industry norms.
"It all comes down to monetization in our opinion, and Snap is going through a painful maturation phase."
Pivotal Research, Brian Wieser
(Rates sell, PT $10)
"We did not hear any commentary nor observe any data which causes us to meaningfully alter longer-term variables in our model."
Current period growth rates matter less than what data and commentary suggest about long-term trends, which were mostly in line with expectations going into the earnings report.
Still, the costs weren't quite as high as expected, which can be viewed positively to a certain extent.
(
Updates share performance in the first paragraph.
)
Before it's here, it's on the Bloomberg Terminal.
LEARN MORE