South Africa's Ramaphosa Says He's Discussing Transition With Zuma
By
Talks lay basis for 'speedy resolution,' Ramaphosa says

ANC postponed meeting on Wednesday to decide on Zuma's future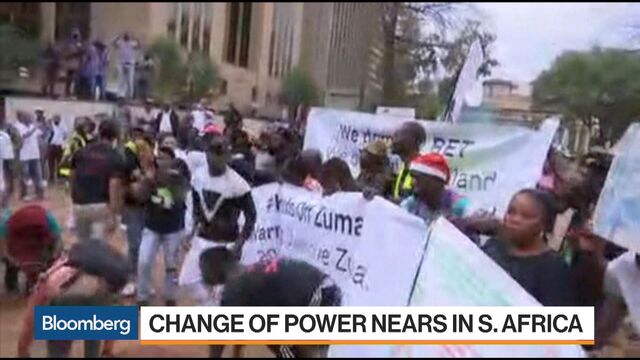 South Africa' ruling-party leader Cyril Ramaphosa said he is holding direct discussions with President Jacob Zuma on a transition of power.
The talks started Tuesday night and included matters relating to Zuma's "position as president," Ramaphosa, who is also the deputy president, said in an emailed statement on Wednesday. "The discussions were constructive and lay the basis for a speedy resolution of the matter in the interests of the country and its people."

The African National Congress's National Executive Committee, its top decision-making body, postponed a special meeting called for Wednesday to decide whether to force Zuma from office. This was done to enable Zuma and Ramaphosa to conclude their talks and report back to the party, the deputy president said.
"I am aware that the uncertainty surrounding the position of the head of state and government is a cause for concern among many South Africans," Ramaphosa said. "I am certain that the process we have now embarked on will achieve an outcome that not only addresses these concerns, but also unites our people around the tasks that all of us must necessarily undertake to build our country."
Before it's here, it's on the Bloomberg Terminal.
LEARN MORE