business
Pilots Let Corporate Jet Slow Too Much Before Fiery Crash
By and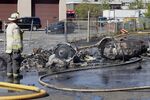 Two pilots flying a corporate jet that crashed last year near Teterboro Airport in New Jersey were too slow on their approach to the airport, according to investigation reports released on Wednesday.
The Learjet 35A, a twin-engine jet often used for business or personal travel, plunged out of the sky on May 15 as the pilots were trying to land at Teterboro near New York City, according to the National Transportation Safety Board. The crash killed both pilots. No one else was on the flight.
The pilots allowed the plane to become too slow on the approach, causing an aerodynamic stall that left the wings unable to keep the plane aloft, according to the NTSB's preliminary data. 
"Airspeed, airspeed," the copilot said seconds before the crash as the captain uttered an unspecified curse. The NTSB transcribes cockpit recordings and notes where expletives were used, but does not identify the specific words.
While the NTSB hasn't concluded the cause of the accident, the preliminary reports raise numerous questions about the pilots and their actions. 
They violated speed restrictions at least once on the short flight from Philadelphia to Teterboro, according to the reports. Both had also failed skills tests previously in their careers, according to NTSB.
A recording of the cockpit conversations were laced with salty language, according to the NTSB transcript.
Early in the flight, after an air-traffic controller asked the pilots how fast they were going and they had to slow the plane from 299 miles per hour to the legal limit of 288 miles per hour, the captain used two expletives when he said that he had "violated" airspace.
The NTSB will issue its final report after analyzing the 829 pages of preliminary data released Wednesday.
Before it's here, it's on the Bloomberg Terminal.
LEARN MORE