markets
Out-of-Whack Volatility Gives Strategists Hope of Calm Ahead
By
Cantor, Credit Suisse think market distortions can't last

VIX and its options showing moves that may be hard to maintain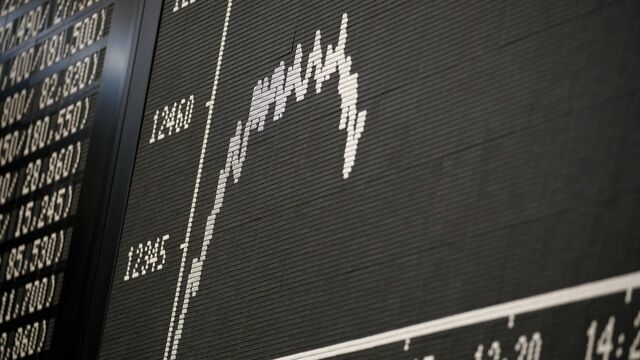 Volatility and options prices are so distorted that they're likely unsustainable, offering hope to some strategists who predict the global stock selloff may resolve quickly.
For one thing, the surge in volatility for equities isn't being mirrored in the bond market. While the Cboe Volatility Index has risen well off its historical floor, surpassing 50 on Tuesday, the Merrill Lynch Option Volatility Estimate Index, which measures volatility in one-month Treasury options, remains near long-term lows despite an uptick in recent days.

"It makes little sense to me that this event ends with MOVE just off of its all-time low," MKM Holdings LLC derivatives strategist Jim Strugger said on Monday, noting that this year's surge in Treasury yields was one contributing factor to the stock-market turbulence.
Read more here for details on this month's global equity rout.
Cantor Fitzgerald's Chief Market Strategist Peter Cecchini pointed to a number of instances where he sees mispricing. An at-the-money straddle trade that expires Feb. 9 implied on Tuesday a 3.3 percent move in the next three days, and isn't factoring in the chance of a more pronounced downside move in volatility. He also compared Russell 2000 Index volatility and that of the S&P 500 Index, saying swings in large-capitalization stocks jumped above that of small-capitalization stocks, an unexpected event.

Cecchini mentions that the surprising relationship may be at least partially due to exchange-traded products based on the VIX, which ran into trouble given the sudden spike in the gauge after a long period of market calm. Credit Suisse said it will buy back the VelocityShares Daily Inverse VIX Short-Term ETN, which it issued and is known by its trading symbol XIV. More than a dozen other volatility-based products were halted after their values sunk toward zero.
Adding to the evidence that the market selloff could be short-lived, there was "no panic in customer flow despite the vol dislocation," Credit Suisse equity-derivatives strategist Mandy Xu wrote in a note Tuesday. She pointed to the Credit Suisse Fear Barometer, which measures investor sentiment for a three-month investment horizon, as an illustration, saying it's up but "nowhere near the highs."

One place where there was a record: the VVIX, or volatility of volatility. It hit a new high of 177.34 on Monday but has since retreated 17 percent.

High volatility won't be sustainable "without a deterioration in the fundamental backdrop," Xu said, such as an increased risk of a recession. "Absent that, we would expect volatility to normalize."
(
Updates charts with Wednesday levels.
)
Before it's here, it's on the Bloomberg Terminal.
LEARN MORE