Mnuchin Says He Isn't 'Overly Concerned' About Market Plunge
By and
Treasury secretary says he checked in with investors Tuesday

Mnuchin stresses U.S. economic strength as stocks slide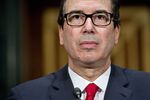 Treasury Secretary Steven Mnuchin checked in with Wall Street investors Tuesday morning following Monday's stock market plunge but said he's "not overly concerned" about a short-term selloff.
Markets are "functioning very well," the drop didn't pose any financial stability concerns, and the Trump administration's policies "are very positive for long-term economic growth," Mnuchin said at a hearing of the House Financial Services Committee.
"You've seen a normal market correction, although large," Mnuchin said. "There's a disconnect in the short-term; markets move in both directions."
The S&P 500 Index ended the session up by about 1.7 percent. The Dow ended up more than 560 points, or 2.3 percent, after falling 1,175 points the day before.
"I normally wouldn't be looking at my iPhone but given the news, I'm checking it," Mnuchin said at the hearing.
Speaking to reporters after the hearing, Mnuchin said the federal government's borrowing plans -- estimated at more than $1 trillion for 2018 -- weren't stoking the turmoil.
"I don't think that's had an impact on the market at the moment," he said. "The debt markets are one of the most liquid markets in the world and are reacting very well."
Yet while expressing confidence in the American economy, the Trump administration has been monitoring closely the market upheaval.
Kevin Hassett, the chairman of the Council of Economic Advisers, told CNN on Tuesday night that he, along with Mnuchin and White House chief economic adviser Gary Cohn, "have been in constant contact with financial regulators." He did not elaborate.
"Today was good for investors," Hassett added. "But the fundamentals are strong."
Reassuring Investors
Mnuchin, Hassett and Cohn were among several U.S. officials who sought to calm nerves after the turbulence on Wall Street. When asked on Tuesday about the stock tumble during a Senate hearing, Jay Clayton, who heads the Securities and Exchange Commission, said he didn't see anything abnormal in Monday's market decline. He added that it didn't signal a systemic risk.
"There is nothing to indicate that any of our systems didn't function as they were expected to function yesterday," Clayton told senators on the Senate Banking Committee. "As I sit here today, there's nothing that came out that concerns me from a functioning standpoint."
Meanwhile, Commodity Futures Trading Commission Chairman J. Christopher Giancarlo said that the derivatives markets his agency oversees also functioned properly. "I can say that the system held, the system worked as it was designed to do," he said during the hearing. Giancarlo is due to meet with Trump at the White House on Wednesday afternoon.
The episode highlights the political risk Trump runs tying his presidency too closely to a bull market. Monday's selloff -- the biggest tumble in more than six years -- intensified just as the president was recounting "a tidal wave of good news" about the economy in a speech in Ohio. He didn't mention markets, even though he often boasts about them with the refrain, "how's your 401k doing?"
"We'll still claim credit that it's up over 30 percent since the election," Mnuchin said of the stock market.
Amid the turmoil, the Trump administration is seeking to focus on other economic indicators -- including unemployment and consumer confidence -- that it says show a strong economy.
"Obviously we're concerned about setbacks that happened in the stock market, but that being said, we're looking at the long-term strong economic fundamentals," Mercedes Schlapp, President Donald Trump's director of strategic communications, said in an interview Tuesday on Fox News.
Though the Dow and the broader S&P 500 are now down for the calendar year, U.S. stocks are up since election day, the Dow rose more than 25 percent last year, unemployment remains low and gross domestic product has increased every quarter he's been in office.
"Your paychecks are going way up," Trump said Monday in Ohio. "Your taxes are going way down."
Aboard Air Force One
The TV in Air Force One's board room is usually turned to Fox News, but when White House staff boarded the plane after Trump's Monday speech, the network was broadcasting a red chart illustrating the market decline. Aides turned it off.
At 4:46 p.m., Mnuchin -- who returned to Washington with Trump, along with tax policy adviser Shahira Knight, Representative Jim Renacci and Senator Rob Portman, both Ohio Republicans -- approached the press cabin. He waved off questions about the stock market and insisted that Fox News, which covered the market downturn throughout the flight, had remained on the TV.
It hadn't been. Aides only turned it back on toward the end of the flight.
Trump spent part of the flight talking with Portman, Mnuchin and senior adviser Stephen Miller and was in good spirits, aides said. As the plane approached Washington, the National Security Council's chief of staff, Keith Kellogg, fetched a bag from the galley. "At least it's not an air sickness bag," he joked to reporters.
Later the White House issued a statement drawing on a familiar Washington strategy for addressing market downturns. Like George W. Bush, Ronald Reagan and Herbert Hoover in their own moments of market distress, the Trump team struck an upbeat note, trying to shift the focus to economic "fundamentals."
"The president's focus is on our long-term economic fundamentals, which remain exceptionally strong, with strengthening U.S. economic growth, historically low unemployment, and increasing wages for American workers," Press Secretary Sarah Huckabee Sanders said in a statement after the plane landed. "The President's tax cuts and regulatory reforms will further enhance the U.S. economy and continue to increase prosperity for the American people."
— With assistance by Justin Sink, and Saleha Mohsin
Before it's here, it's on the Bloomberg Terminal.
LEARN MORE