Meet the Social Democrat Poised to Run Merkel's Finance Ministry
By
Olaf Scholz likely to be Germany's point man on the euro

The Hamburg mayor served in chancellor's first grand coalition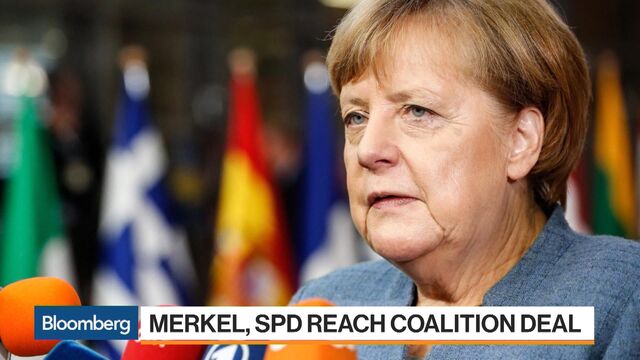 As general secretary of Germany's Social Democratic Party from 2002 to 2004, Olaf Scholz used so much cookie-cutter language that journalists began calling him the "Scholzomat." While serving as mayor of Hamburg for the past seven years, Scholz built a reputation as an unpretentious leader who purged his office of paintings, photographs, and plants -- which he regarded as unnecessary clutter, leaving little more than a huge black desk.
Now, Scholz is poised to bring that stoic demeanor to a larger stage. German media said Wednesday he's been tapped to serve as finance minister in Angela Merkel's new cabinet, though SPD officials declined to confirm those reports.
Scholz's calm comportment echoes that of Wolfgang Schaeuble, Merkel's Christian Democrat finance minister for the past eight years who had a reputation for carrying out his boss's orders even when he disagreed with them.
"It can be assumed that Scholz is not too far from the core of Schaeuble's ideas," said Thomas Gitzel, chief economist at VP Bank in Vaduz. "Scholz isn't part of the SPD left wing, but of the liberal wing."
Scholz, 59, is no stranger to Merkel. He served as labor minister from 2007 to 2009, in her first "grand coalition," and found himself frequently defending the government's social cuts against attacks by the SPD's left wing.
Scholz will become Germany's point man on policies regarding the euro. In that role, he'll have to stand up for a government that has often been the EU's fiscal watchdog -- despite his party's longstanding advocacy of looser reins on spending.
Party Officer
His reputation is one of loyalty above all. In a 2013 interview with German weekly Die Zeit, Scholz said he was a defender of economic reforms championed by Gerhard Schroeder, the Social Democrat chancellor from 1998 to 2005. As an "officer" of the party, Scholz said, it wasn't his job to reveal his feelings or convey messages that differed from the official line.
Scholz's opposition to the SPD's left and his defense of Schroeder's reforms almost cost him his party management position in 2003. When Schroeder quit as party chairman in 2004, Scholz also resigned as the SPD's general secretary.
During Merkel's most recent term, Schaeuble and Scholz worked together closely to untangle financial relations between Germany's federal government and the country's 16 states, an undertaking scheduled to be completed by next year. Schaeuble has often praised Scholz for his collegial cooperation.
In 2011, Scholz was elected mayor of Hamburg, and in 2015 he entered into a coalition with the Greens. Perhaps the biggest blemish on his record is his handling of the Group of 20 summit in Hamburg last July.
Though Scholz pledged to maintain security, protesters torched cars and buses, looted stores, and left much of the city center in shambles. At the time, Merkel declined to place blame on the mayor, telling German television that she has "as much responsibility for this as Olaf Scholz."
— With assistance by Jan-Patrick Barnert, and Patrick Donahue
Before it's here, it's on the Bloomberg Terminal.
LEARN MORE