May Slammed for Not Ruling Out NHS Inclusion in U.S. Trade Talks
By
Premier May earlier didn't rule out putting NHS on table

Cable says venerated NHS 'for sale' under May's government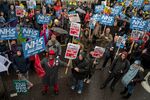 Theresa May's government promised to safeguard the National Health Service in any future trade talks after the U.K. leaves the European Union, after her earlier prevarication in Parliament triggered a backlash.
The public health sector "is protected by specific exceptions and reservations in all EU trade negotiations," the premier's spokesman, James Slack, told reporters Wednesday. "As we leave the EU, we will make sure that rigorous protections for the NHS are included in all trade deals that we are party to."
Asked earlier whether she could give "an absolute guarantee" that the NHS would be excluded from any trade negotiations with the U.S., May stopped far short of a commitment, saying only that the discussions are just beginning and that any U.S. demands are not yet known. "We will go into those negotiations to get the best possible deal for the United Kingdom," she said.
That answer played into a long-running accusation that her ruling Conservative Party can't be trusted to protect the NHS, an institution that dominates political debate, from privatization. The Labour Party couldn't accept any trade deal that allowed companies from the U.S. or elsewhere to "cherry-pick" parts of the NHS, said a party official who asked not to be identified.
"Can only infer that NHS is indeed for sale under @Conservatives," Liberal Democrat Party leader Vince Cable, who asked May the question, tweeted later. Likewise, Green Party Leader Caroline Lucas said future trade deals represent a "profound threat to our health service."
Trump NHS Tweet Angers Brits Fearing U.S.-Style Health Care
It's the second time this week that issues surrounding the NHS have put the government on the back foot. U.S. President Donald Trump tweeted that a protest march in London was evidence that Britain's universal health-care system doesn't work. That prompted a backlash on Twitter from Britons -- including Health secretary Jeremy Hunt -- saying they didn't want a private insurance system as in the U.S.
"Theresa May just gave Donald Trump the green light to get his hands on our National Health Service," Labour Party lawmaker Peter Kyle said in a statement issued via Open Britain, which is pushing for close ties to the EU after Brexit. Her refusal to rule out competition from U.S. firms "underlines her weakness in trade negotiations and should concern us all," he said.
Before it's here, it's on the Bloomberg Terminal.
LEARN MORE