business
Carillion Exposure Sends Losses Soaring at Handelsbanken
By and
Swedish Bank says Carillion was a "big part" of losses

British impairments drove up Handelsbanken's group losses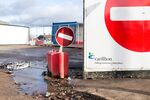 Sweden's second-biggest bank reported a 30 percent jump in loan losses at the end of last year, mostly because of its exposure to the U.K. market.
Svenska Handelsbanken AB said much of the damage could be traced back to loans made to Carillion Plc, the construction company that imploded this year.
Carillion was a "big part" of the loan loss development, Chief Financial Officer Rolf Marquardt said during a conference call on Wednesday. He also said the U.K. company was a "very special case" and that, generally, credit quality in the country was "strong."
Carillion's Slow-Motion Car Crash to Teach Many Valuable Lessons
Marquardt said Carillion had been a customer for "many years" and was considered "well established."
"But sometimes things go wrong" and in Carillion's case, things went "deeply wrong," he said.
Carillion's Collapse Is a Lesson for Britain and Brexit: Gadfly
Handelsbanken's net loan losses rose to 1.08 billion kronor ($136 million) in the fourth quarter, more than twice the analyst estimate. The bank's U.K. business weighed heaviest, with net loan losses of 556 million kronor. Denmark was the second-worst market, with loan losses at 372 million kronor.
"This increase was entirely attributable to two exposures," Handelsbanken said in its fourth-quarter report on Wednesday. "The underlying credit quality remained stable."

Meanwhile, the bank says it sees "good opportunities for expansion and growing business volumes in the U.K." Handelsbanken is working on converting its branches there into a subsidiary. The new structure is a requirement if the bank hits its target for retail deposits of at least 25 billion pounds ($35 billion). Britain's decision to leave the European Union is putting more pressure on Handelsbanken to accelerate that likely transition, it said.
The bank expanded its workforce in the U.K. by 4 percent to just over 2,000 from a year earlier.
(
Adds conference call comments on Brexit.
)
Before it's here, it's on the Bloomberg Terminal.
LEARN MORE