Goodfriend Facing Close Vote for Fed After Senate Grilling
By
'Dreadful' hearing left moderate Senate Democrats nonplussed

Libertarian objections could cut into Republican support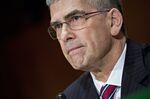 Marvin Goodfriend, President Donald Trump's nominee for a Federal Reserve Board seat, was expected to coast to his confirmation in the Republican-controlled U.S. Senate. After a rocky hearing last month before lawmakers, that's now in doubt.
The Senate Banking Committee has scheduled a vote on Goodfriend's nomination for Thursday. Though approval at this stage is likely, a final decision by the full chamber appears too close to call, with opponents on the left and right lobbying against his confirmation.
"He had a dreadful hearing, and there is a contingent of the Republican party that loathes the Federal Reserve more than it likes the White House," said Isaac Boltansky, an analyst at Compass Point Research & Trading in Washington. If you also consider that Goodfriend isn't part of a package of nominees designed to gather bipartisan support, his "confirmation is not the layup that many expected it to be," Boltansky said.
A rejection of Goodfriend, or his withdrawal, would be an embarrassment for the Trump administration and a headache for the central bank. With the departure last week of former Chair Janet Yellen, who also resigned from the Board of Governors, the Fed has four vacancies on the seven-seat panel. Administration officials have said for weeks that they're close to picking a nominee for the No. 2 position, vice chairman.
The personnel shortage places a heavier burden on the remaining three governors and could make it more difficult for new Chairman Jerome Powell to establish his sway over the policy-making Federal Open Market Committee. Historically, Fed governors align themselves more closely with the chair than do regional Fed presidents, who also serve on the panel.
Powell, approved by the Senate with broad bipartisan support, started the job Monday.
Fed spokeswoman Michelle Smith declined to comment on Goodfriend's confirmation chances or on how his potential rejection would affect the central bank.
Wide Respect
An economics professor at Carnegie Mellon University in Pittsburgh, Goodfriend is a widely respected, if somewhat controversial, monetary policy scholar. His confirmation looked a shoe-in until his Jan. 23 hearing when he appeared ill-prepared for an aggressive line of questioning by Democrats.
Ohio Senator Sherrod Brown, the senior Democrat on the committee, hammered him over his past predictions that easy monetary policy would result in high inflation.
"Why were you so wrong so many times?" Brown asked, adding, "You seem to be more concerned with threats of inflation than you are with people losing jobs and livelihoods."
Congressional Stumbles
Goodfriend stumbled through a defense of his views. He eventually got around to a substantive response -- that a central bank will be ineffective in maximizing job creation if it lacks credibility in controlling inflation -- but only after appearing flustered. He also backtracked on some past statements. He said he regretted once using the word "incoherent" to describe the Fed's dual mandate -- its directive by Congress simultaneously to maximize employment and keep prices stable.
When he stuck by past positions, he also ran into trouble. He told Jon Tester the government ought not to guarantee 30-year mortgage loans, prompting the Montana senator to criticize those views in a statement immediately following the hearing.
Tester was one of several moderate Democrats who seemed likely to support Goodfriend going into the hearing. Tester's spokesman Dave Kuntz said Wednesday the senator will vote against the confirmation. Senator Mark Warner from Virginia, another moderate, was also leaning against voting for Goodfriend after the hearing, according to a person familiar with his thinking. Warner, however, had not made a final decision on their vote, the person said.
Closer Than Expected
Tradition in the Senate, though frayed in recent years, dictates that opposition party members defer to a president's nominees "as long as they're not terribly objectionable," said Ian Katz, an analyst with Capital Alpha Partners in Washington.
Goodfriend "could have won some of those votes, but it looked from the hearing that they weren't convinced, and that's why this is looking closer than people would have expected," Katz said.
The leftist activist group Fed Up has been lobbying Democrats to reject Goodfriend, hoping to make it a party-line vote in the full Senate. With the Republican's majority in the chamber down to two, and with Arizona's John McCain home battling cancer, Goodfriend's confirmation may depend on holding nearly every remaining Republican in line, which could prove difficult.
Goodfriend has other views -- namely his past advocacy for considering negative interest rates in a severe recession -- that could unsettle libertarian-minded conservatives such as Rand Paul of Kentucky and Ted Cruz of Texas. Staff for Paul and Cruz declined to comment.
"If the Democrats are united it's going to be very tight," Katz said. "The Republicans don't have any real margin for error."
Before it's here, it's on the Bloomberg Terminal.
LEARN MORE