Five Things You Need to Know to Start Your Day
Get caught up on what's moving markets in Asia.
By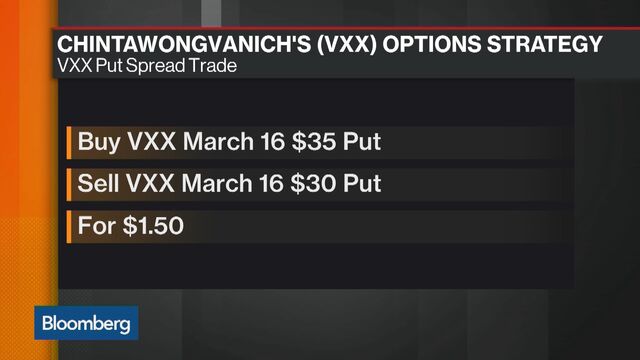 Want to receive this post in your inbox every morning? Sign up here.
Markets were still on edge after several turbulent days. There's an update on China's war against risk , and the U.S. Senate has a budget deal. Here are some of the things people in markets are talking about.
Markets Remain on Edge
U.S. stocks remained on unsteady footing as the bout of volatility that's gripped global financial markets persisted amid signs that the rise in Treasury yields has yet to run its course. The VIX continued to drop, ending the session around 28, while gold declined, oil plunged, the dollar continued strengthened, and U.S. President Donald Trump weighed in to lament the recent slide in equities. Volatility going out of whack gave hope to some that things would normalize, while others wondered if the world would end.
China's War on Risk
Chinese regulators appear to be winning their war against risk in one of the more dangerous corners of the country's shadow banking industry -- the so-called wealth management products that banks buy from each other in a search for easy profits. Interbank holdings of WMPs more than halved last year. That suggests higher interest rates and increased scrutiny by regulators are deterring Chinese banks from their previous practice of using cheap interbank borrowing to invest in each others' higher-yielding WMPs.
U.S. Budget Deal
Senate leaders announced a bipartisan two-year budget agreement Wednesday that would provide nearly $300 billion in additional funding, a step likely to avert a Friday government shutdown and end a months-long impasse on spending priorities. The plan would also suspend the federal debt ceiling until March 2019, according to Senator Roy Blunt of Missouri, a member of the GOP leadership team. It also would provide hurricane and wildfire disaster aid. Blunt said he expects a Senate vote on Thursday.
RBNZ Over, BOE to Come
New Zealand's central bank held interest rates at a record low and projected they will stay there until mid-2019 as inflation remains subdued amid slower economic growth. "Monetary policy will remain accommodative for a considerable period," Acting Governor Grant Spencer said. "Numerous uncertainties remain and policy may need to adjust accordingly." Later in the day, the Bank of England will announce its rate decision. Policy makers are expected to remain on hold -- but since the start of 2018, investors have priced in an increasingly aggressive path for the country's interest rates. Despite paring expectations amid the global market slump in recent days, they still assign more than a 50 percent chance to a hike in May and see more than three hikes across the BOE's three-year policy horizon, even with Brexit looming next year.
Coming Up…
Thursday features Japanese balance of payments, China trade data, Aussie business confidence, a rates decision for the Philippines and a speech from RBA Governor Philip Lowe in the Sydney evening. The European day brings the BOE meeting, Dallas Fed President Robert Kaplan addressing a Bundesbank-hosted conference in Frankfurt and manufacturing data from South Africa and Turkey. The U.S. session brings Twitter 4Q earnings along with rates decisions for Mexico and Peru as well as inflation readings for Chile and Mexico.
What we've been reading
This is what caught our eye over the last 24 hours.
— With assistance by Garfield Clinton Reynolds, Laura Litvan, Erik Wasson, and Sahil Kapur
Before it's here, it's on the Bloomberg Terminal.
LEARN MORE