business
Fed's Dudley Says Equity Rout Hasn't Yet Changed His Outlook
By
'It's still up sharply from where it was a year ago," he says

Dudley: It's a big story in the press, not for central bankers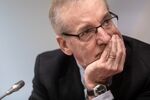 Federal Reserve Bank of New York President William Dudley said recent stock-market declines weren't that big and don't yet change his outlook for the U.S. economy.
"This wasn't that big a bump in the equity market," Dudley said at a moderated question-and-answer session in New York on Wednesday. "The stock market had a remarkable rise over a very long time with extremely low volatility," he said, adding: "My outlook hasn't changed just because the stock market's a little bit lower than it was a few days ago. It's still up sharply from where it was a year ago."
Dudley, 65, spoke during a sensitive time for global equity markets, after the Dow Jones Industrial Average dropped nearly 5 percent on Monday before bouncing back more than 2 percent the next day.
"Having a bump up like this has virtually no consequence on my view of the economic outlook," he said.
While U.S. central bankers didn't come out with a formal statement during the turmoil, St. Louis Fed President James Bullard played it down during a public event on Tuesday, calling the decline the "most predicted selloff of all time."
The New York Fed president serves as vice chairman on the interest-rate setting Federal Open Market Committee and has a permanent vote on monetary policy. Dudley has said he plans to retire in mid-2018.
Before it's here, it's on the Bloomberg Terminal.
LEARN MORE