Business
Airbus Outgrows Its European Home
There's pressure to shift work away from its base to win political favor in new markets.
By , , and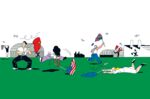 Since it was cobbled together from a passel of national aerospace groups a half-century ago, Airbus SE has spread its operations across Europe in a delicate effort aimed at maximizing political expediency without sacrificing too much economic efficiency. There's little industrial logic, after all, in shuttling airplane parts among 14 factories in a half-dozen countries, with some wing components crossing the English Channel nine times before being mounted on planes. Yet it makes perfect sense if you want the backing of governments seeking jobs for their workers. Today, as Brexit looms, the quid pro quo is poised to become more complicated as the plane maker faces growing pressure from countries that buy the bulk of its planes to shift some manufacturing onto their shores. "Airbus will set up production capacity where it sees the potential for orders," says Agnès Blazy, an industry analyst with CM-CIC Market Solutions in Paris.
The company's airliner business employs more than 53,000 people across Europe. And of the 11,000 passenger jets Airbus has built since it was founded in 1970, all but 400 have come out of the region's factories. Europe, however, accounts for fewer than 1 in 5 planes in Airbus's order book, and China, the U.S., and other countries are clamoring for a bigger share of production reflecting the size of their markets—an idea Airbus has hinted it might accept. "Our first commitment is not to any particular nation," Chief Executive Officer Tom Enders said at a January aerospace industry dinner in London. "It is first and foremost to the global competitiveness of the company and our industry."

Globalized production isn't new to Airbus, which already has a pair of factories aimed at allowing customers in two of its most important markets to slap a homegrown label on its jets. A decade ago Airbus opened a plant in Tianjin, China, that's expected to make a half-dozen narrowbody planes monthly by 2020, up from four now. Production is also ramping up at a factory in Mobile, Ala., that's been building Airbus narrowbodies since 2015, and the company plans to open a second assembly line there to make a smaller jet in partnership with Bombardier Inc. of Canada. Airbus hasn't been shy about linking offshore manufacturing to sales, especially for its floundering A380 megaplane. "If there was going to be a significant order out of China for A380s, we'd certainly be willing to talk about industrial cooperation," outgoing sales boss John Leahy told Bloomberg Television in January.
Brexit could supercharge the complexity of the operation. Britain has long had a stranglehold on the design and manufacture of wings, the most complex part of an aircraft's shell, spurring the U.K. to closely guard its expertise in the field and drawing the envy of other sites in the Airbus network. Germany, in particular, has complained of not getting its fair share of work on key programs and underpinned its protest by withholding some loans for the A350, the company's most advanced jet. If Britain's exit from the European Union leads to customs delays or restrictions on the movement of employees, its leading role might be threatened. "Brexit will inevitably weaken the industrial links between the EU and U.K.," Enders says.
China, Mexico, South Korea, and the U.S. have all approached Airbus about wing production, according to people familiar with the matter. France, Germany, and Spain are also interested. "Believe you me, they've been knocking at the door" for more work in light of Brexit, Airbus U.K. Senior Vice President Katherine Bennett said of China in a November address to British lawmakers.
Iain Gray, who heads the aerospace program at Britain's Cranfield University, cautions that change isn't imminent. While Airbus might not create its existing system if it were starting from scratch today, the company has spent billions of euros on European factories and in developing engineering expertise unique to each site. It won't be quick to shutter any of them. "There's been massive investment in human capital and equipment," Gray says. "As long as those countries remain competitive, there's no reason to change."
Airbus would more likely consider new locales to produce its next generation of aircraft, such as a replacement for the narrowbody A320 that's expected to have wings made from composites, rather than the aluminum used today. While manufacturing of next-generation planes probably won't start in less than a decade, investment decisions will be made far sooner.
Airbus already has a global network of suppliers, ranging from Kansas-based Spirit AeroSystems Holdings Inc., which produces the central fuselage of the A350, to a division of Korean Air Group that makes wingtip devices for the A330 widebody, to China's Xi'an Aircraft Co., which manufactures wings for planes assembled at the Tianjin plant. All told, Airbus has some 12,000 subcontractors in more than 40 countries from Finland to Sri Lanka.
Boeing Co., too, relies on vendors around the globe—and it offers a cautionary tale. The American manufacturer's 787 Dreamliner, the first all-composite aircraft, uses components from such far-flung places as Japan and Italy, part of a plan to spread the manufacturing risk among partners. The idea backfired when some parts didn't meet Boeing's specifications, requiring expensive follow-up work that caused a three-year delay in the 787's launch and spurred Boeing to write down more than $27 billion in losses.
It's clear that Airbus has accomplished its founders' goal: the creation of a European aerospace champion to rival U.S. manufacturers. Today it has a record order backlog of 7,265 planes, and its European factories are working flat out as final assembly of the vast majority of its planes and most other high-value work such as design, development, and systems integration are reserved for its home countries. But the pressure has never been greater for Airbus to shift more work abroad, and sooner or later it will surely do so, beefing up its nascent operations in the U.S. and China and possibly adding capacity elsewhere as well, says Hans Weber, an aerospace consultant in California. Enders and other Airbus leaders, Weber says, "realize that it is an international company, not just a European one."
BOTTOM LINE -
Airbus's system of apportioning jobs across European factories will grow more complex as the company seeks to boost sales in China and other fast-growing markets.
Before it's here, it's on the Bloomberg Terminal.
LEARN MORE