markets
Worries About VIX Funds Drag Cboe's Shares to a Record Decline
By and
One big VIX fund is closing, another lost most of its value

VIX derivatives provide about a quarter of Cboe's revenue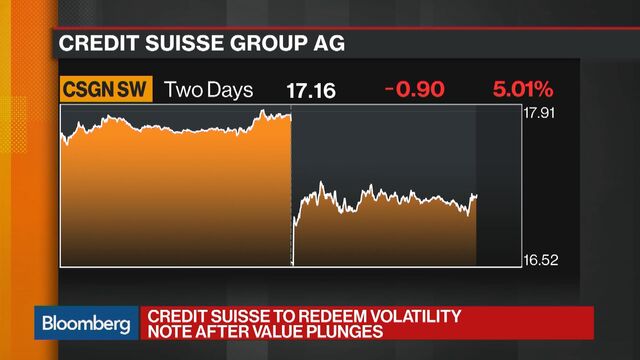 Cboe Global Markets Inc.'s been one of the surest bets out there, rallying seven straight years on the back of its famous VIX franchise. But a crack just formed in that pillar of growth for the company, sending its shares tumbling a record 17 percent.
About a quarter of the exchange's revenue in the second half of last year came from futures and options tied to the VIX, according to a Keefe Bruyette & Woods Inc. analyst who called the products "a meaningful growth driver for the company."
An Inventor of the VIX: 'I Don't Know Why These Products Exist'
Two major buyers of those futures contracts are imploding Tuesday, raising fears this business could shrink. Credit Suisse Group AG said Tuesday it's liquidating a VIX fund known as the XIV, and ProShares's SVXY plunged 84 percent. They'd been worth about $3 billion.
Options broker Marco Risk Advisors said those two funds were short about 200,000 VIX futures. That's a huge chunk of the market, about a third of the total number of short positions in VIX futures, according to weekly data compiled by U.S. regulators.
Those derivatives can only trade at Cboe, which controls the VIX intellectual property. If there's less VIX derivatives trading, that could drain volume from Cboe, said Tom Lehrkinder, a senior analyst at Tabb Group. "If they're not trading, they're not using the VIX products to hedge or to speculate whatever their particular strategy is," he said.
Cboe's stock plunged as much as 17 percent on Tuesday, an unprecedented loss. The shares surged 69 percent last year, their seventh straight annual gain. They rebounded from their lows of the day, losing only 12 percent as of 2:47 p.m. New York time. A spokeswoman for the company declined to comment on Tuesday's drop.

Another question is whether regulators may step in to scrutinize the volatility-related products, which had become commonplace, according to Bloomberg analyst Eric Balchunas.
"The SEC looks more serious than they have been in years past. Whether they regulate these things or not has yet to be determined," he said. "A trade unwinding in such epic glory in one day could scare people from doing anything related to VIX in a while."
Tuesday's plunge may not have lasting impact, said Bloomberg Intelligence analyst Arjun Bowry.
"While Credit Suisse's decision to close a short-vol ETN may raise some concerns over the outlook for volatility-related exchange-traded products, the recent spike in volatility should be beneficial for trading volume in Cboe's core products, VIX options and VIX futures," he said.
— With assistance by Dani Burger
Before it's here, it's on the Bloomberg Terminal.
LEARN MORE