White House Won't Rule Out Pence Meeting North Koreans at Olympics
By and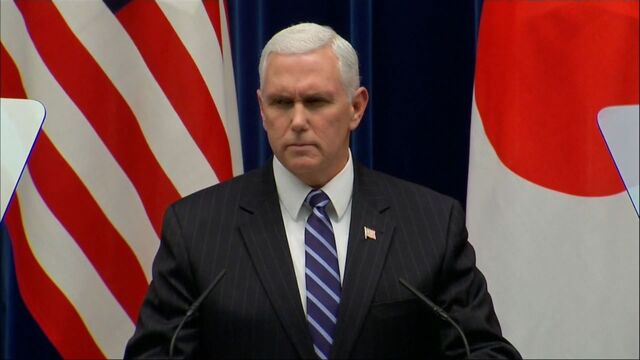 For the third time in two days, senior Trump administration officials declined to rule out a meeting between Vice President Mike Pence and his North Korean counterparts during the Winter Olympics in South Korea beginning later this week.
Asked whether a meeting is possible, White House press secretary Sarah Sanders said Tuesday, "I don't have any announcements other than we'll see."
"We'll see" is the same response Pence and Secretary of State Rex Tillerson have offered in recent days when asked if a meeting is possible. It's also a shift in tone from last month, when State Department spokeswoman Heather Nauert said "now is not the time" for talks, adding "we are nowhere near that point yet."
Pence is in Japan ahead of his visit to South Korea, where he'll try to counter North Korea's efforts to use its athletes' appearance at the games as a propaganda tool.
"I haven't requested any meeting, but we'll see what happens," Pence told reporters at Elmendorf Air Force Base, Alaska, this week before departing for Tokyo. "My message -- whatever the setting, whoever's present -- will be the same. And that is that North Korea must once and for all abandon its nuclear weapons program and ballistic missile ambitions."
North Korea's delegation to the Olympics in PyeongChang will be led by Kim Yong Nam, the isolated regime's ceremonial head of state. If the two manage to pull off a meeting, it would be the highest-level talks between the countries in decades.
— With assistance by Toluse Olorunnipa
Before it's here, it's on the Bloomberg Terminal.
LEARN MORE