VIX Sellers Wait Out the Storm to Drive Volatility Lower Again
By
VIX jumped 20 points Monday, largest absolute move in history

Risk of ETPs-driven spikes has now been significantly reduced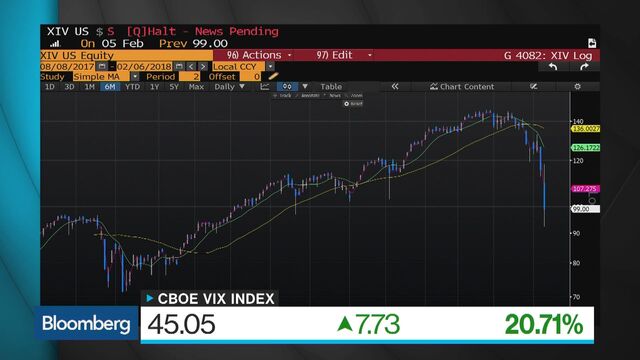 It isn't over for volatility sellers.
The stock-market turmoil may have been painful for investors with short-vol positions as VIX is soaring. Yet, once that positioning is unwound, volatility-selling strategies should come back into play.
For one, S&P 500 realized volatility at 18 percent simply doesn't justify VIX at 50 -- a level that implies consistent average daily fluctuations of over 3 percent in the U.S. stocks index. Compare that with actual average swings at just 0.07 percent over the past year, and it becomes clear it's only a matter of time before option sellers fade these extremes.

Furthermore, the current volatility spike has much to do with market structure, with VIX futures likely driven higher by the rebalancing of VIX exchange-traded products following the systemic selling of volatility tails in this bull cycle.
VIX saw the largest absolute move in history on Monday, which followed 10Y U.S. Treasuries delivering the worst risk-adjusted return for the start of a year and an accelerated rally in SPX leading to positioning peak

It shouldn't take too long for VIX to narrow the gap with its realized counterpart, provided there's no contagion into rates volatility

Short-dated option positioning last month approached risk-on levels seen following Donald Trump's election as investors paid increased premiums for SPX calls and Treasury puts; capitulation into risk assets pushed positioning to a peak
SPX one-month normalized volatility skew, the difference between 25-delta puts and calls divided by 50-delta implied volatility, has spiked to all-time highs

The skew had fallen sharply at the start of the year as SPX rally went parabolic, which boded well for collar structures at increasingly higher strikes and funding of SPX downside on a pullback in stocks; see related story here from Feb. 2

U.S. high-yield debt had been losing momentum relative to SPX from October, with increased divergence a key risk concern; SPX slide has closed the gap with the break higher in CDX IG 5Y (now back to November 2017 levels) with any further widening suggesting further downside for equity and key metric to watch

USTs curve steepening speaks more of flight to quality rather than concerns over the economy; bond/equity battle set to be the theme of the year given the increased sensitivity of the economy to rates compared to previous cycles
NOTE: Tanvir Sandhu is an interest-rate and derivatives strategist who writes for Bloomberg. The observations he makes are his own and are not intended as investment advice
Before it's here, it's on the Bloomberg Terminal.
LEARN MORE