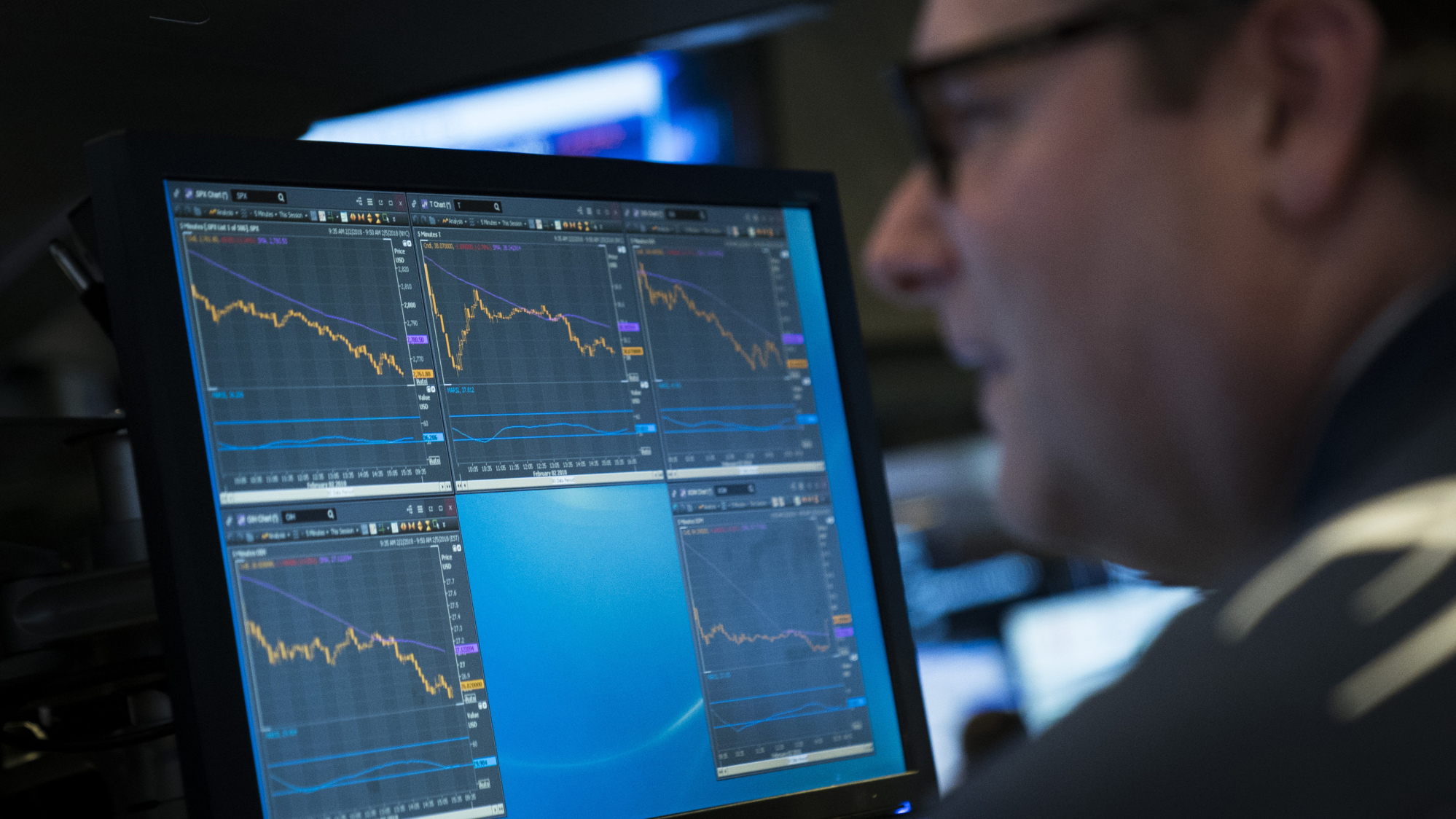 S&P Futures are volatile this morning, to say the least. We slid as low as 2,529 right before midnight only to bounce 116 handles into positive territory, and we are now relatively flattish. VIX and Bitcoin, whose extreme moves coincided with the stocks carnage yesterday, are doing more of the same: VIX is up another 21% to above 45 after a record rally (RIP short vol trade) while Bitcoin is off 12% and now testing $6,000.
Meanwhile the risk-off movement is getting clearer as bonds are now rising opposite to stocks. The 10-year yield, whose upticks were pinned as a reason for sparking the selloff on Friday, has dropped back to 2.71% after hitting a peak of 2.88% yesterday.
This all follows yesterday's stomach-churning meltdown or orderly selloff or "flash crash." or whatever you want to call it as the S&P 500 disregarded a slew of major support levels, from the 50-day moving average to the round number at 2,700 to the level where we would erase all year-to-date gains at 2,674. Despite the violence, institutional traders told us that action from the desk is calm with no real sense of panic. Most said the same thing: that there was no real fundamental reason for the plunge, which can more or less be chocked up to algos and sell programs.
Financials were the worst performer yesterday with the BKX down 4.9%, thanks to WFC crumbling more than 9% on the unprecedented sanction news. Health care, industrials and energy also weighed, with the latter having had two awful sessions in a row after disappointing numbers from XOM and CVX (both down more than 10% in two days) as well as a persistent pullback in crude.
What acted well in the selloff? Utilities and REITs, the two sectors that have taken it on the chin from rising rates, have outperformed since the market fell apart on Friday. Some beaten-down stocks like AAPL (top performer in the Dow Jones), WYNN, GES, and ALB performed OK while SNAP, which reports earnings today after the bell, ended in the green.
What's the trade?
Sectors to watch include the autos (GM +3.2% ahead of earnings), semiconductors (CRUS -16% and SWKS up small after results), the opticals (FN +5.6% and OCLR +0.7% post-earnings), the industrial distributors with FAST sales shortly
Earnings pre-open from CMI (strong Class 8 data hit yesterday), industrial bellwether EMR, TPR (the old Coach), DNKN (sold off after JAB's Keurig takeout of DPS) and some more semiconductors (Swiss name ams AG is up almost 10% overseas)
Earnings post-bell from SNAP, DIS, MTCH, AKAM, CMG, GILD, APC, PXD while TSLA reports tomorrow
Business update from TXN, whose seemingly in-line results two weeks ago sparked a violent down move across the semiconductor space
Crypto-linked stocks, which are getting clobbered due to the bloodbath in Bitcoin, in focus given today's Senate hearing; Fundstrat's Tom Lee said in a note last night that the event could be positive for cryptocurrencies after some prepared remarks hit the tape yesterday
We'll get some Fed speak over the next two days (Bullard at 8:50am, Kaplan and three others tomorrow), something equity traders are watching like hawks (ha) after Kaplan's rate hike comments from Friday
Before it's here, it's on the Bloomberg Terminal.
LEARN MORE