U.S. Index Futures Fall in Sign Stock Rebound Is on Shaky Ground
Namitha Jagadeesh and Jackie Edwards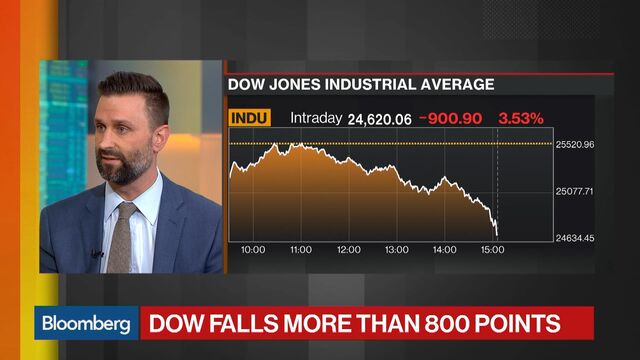 U.S. index futures are in decline again, casting doubt about the strength of a nascent recovery in equities.
E-mini contracts on the S&P 500 Index and Dow Jones Industrial Average slid at least 0.9 percent as of 9:50 a.m. in London. After a volatile session Tuesday, the S&P 500 closed with its biggest gain since November 2016. While European shares are up following Tuesday's U.S. rebound, some analysts are cautioning there's more pain to come.
"Investor sentiment has yet to stabilize as it's uncertain whether the U.S. stock correction is done yet," said Dai Ming, a Shanghai-based fund manager with Hengsheng Asset Management Co. "The market was too complacent earlier and failed to fully price in the potential risks of higher inflation and Fed rate increases."

The Cboe Volatility Index advanced 2 percent, after Tuesday's biggest drop since August. The gauge of investor anxiety more than doubled on Monday, roiling the market for products betting on low volatility.
Some shares were active in pre-market trading after earnings reports: Snap Inc. jumped 23 percent after reporting a surge in revenue. Walt Disney Co. climbed 2.7 percent after posting better-than-estimated profit. Chipotle Mexican Grill Inc. slid 7.7 percent after saying customer traffic declined in the fourth quarter.
The Dow rebounded 2.3 percent Tuesday after dropping 8.5 percent since a Jan. 26 peak. The S&P 500 added 1.7 percent.
— With assistance by Keiko Ujikane, and Abhishek Vishnoi
Before it's here, it's on the Bloomberg Terminal.
LEARN MORE