Trump Uses NFL Player's Death to Push Democrats on Border Safety
By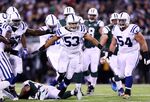 President Donald Trump on Tuesday used the death of Indianapolis Colts linebacker Edwin Jackson by a suspected drunk driver twice deported from the U.S. to pressure Democrats to pass stricter border measures ahead of next week's expected immigration debate.
Jackson, 26, and his Uber driver were killed Sunday in a car crash that Indiana authorities said was caused by Manuel Orrego-Savala, 37, a Guatemalan citizen living illegally in the U.S., according to the Associated Press. Authorities said he had been deported in 2007 and 2009, AP reported.
"So disgraceful that a person illegally in our country killed @Colts linebacker Edwin Jackson," Trump wrote in a tweet Tuesday. "This is just one of many such preventable tragedies. We must get the Dems to get tough on the Border, and with illegal immigration, FAST!"
A moment later, Trump added in another tweet, "My prayers and best wishes are with the family of Edwin Jackson, a wonderful young man whose life was so senselessly taken."
Vice President Mike Pence, a former Indiana governor, was more reserved in a tweet the day before. Retweeting a news story that described Orrego-Savala's legal status, Pence wrote, "I was very saddened to hear of the passing of Indianapolis @Colts linebacker Edwin Jackson. This was a senseless & avoidable tragedy. This is a great loss for the entire Indiana community. My prayers are with his family in their time of grief."
Trump has routinely criticized NFL players who protest police brutality by kneeling during the national anthem, saying at one point in the fall that the league is "going to hell" unless it prohibits the behavior. In October, Pence walked out of a game between the Colts and San Francisco 49ers following a player protest during the national anthem.
Before it's here, it's on the Bloomberg Terminal.
LEARN MORE