Trump Calls for Government Shutdown to Force Immigration Deal
By and
The president blames immigration law for gang violence

Trump rebuts GOP congresswoman who advises against shutdown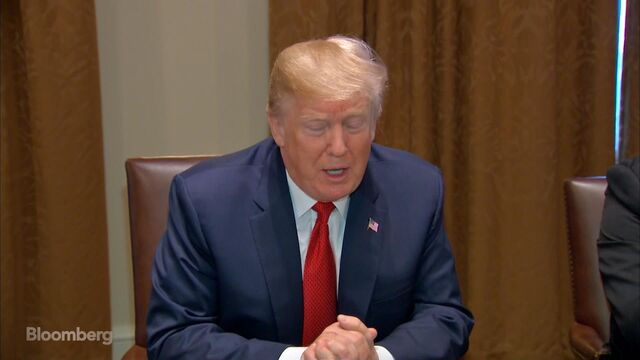 President Donald Trump said he'd welcome another government shutdown if Democrats refuse to meet his demands for an immigration overhaul, just as lawmakers close in on a deal to avoid another halt in federal operations.

"If we don't change it, let's have a shutdown," Trump said to law enforcement officials who met with him at the White House to discuss MS-13, a predominantly Latino gang whose members include undocumented immigrants. "We'll do a shutdown, and it's worth it for our country. I'd love to see a shutdown if we don't get this stuff taken care of."
U.S. immigration law, Trump said, contains "loopholes where killers are allowed to come into this country and continue to kill." The secretary of the Department of Homeland Security, Kirstjen Nielsen, said in the meeting that one example of such a loophole is that authorities are not allowed to deny foreigners entry to the country based on gang membership alone.
Representative Barbara Comstock, a Virginia Republican who was at the meeting, told Trump a shutdown wouldn't be necessary, and that there was bipartisan support for a crackdown on violent gangs.
"I think both sides have learned that a government shutdown was bad," said Comstock. "It wasn't good for them, and we do have bipartisan support on these things."
"Barbara, we are not getting support from the Democrats," Trump replied. "You can say what you want, we are not getting the support from the Democrats."
Comstock represents a suburban district outside Washington, D.C. that Democrats are targeting for a takeover in November's midterm elections. The constituency is home to many federal workers that would be furloughed during a shutdown.
White House Press Secretary Sarah Huckabee Sanders told reporters later that Trump is "not advocating for the shutdown. That's the fault of the Democrats not being willing to do their job."
Kelly Remarks
Earlier in the day, Trump's chief of staff, John Kelly, defended Trump's immigration proposal to reporters at the Capitol. Kelly said that Trump had "shockingly" offered a pathway to citizenship for about 1.8 million undocumented immigrants brought to the country as children. Only about 700,000 of them had signed up for a program under former President Barack Obama, Deferred Action for Childhood Arrivals, he said.
The difference between the two numbers, he said, "were the people that some would say were too afraid to sign up, others would say were too lazy to get off their asses, but they didn't sign up."
Representative Peter King, a New York Republican who attended the MS-13 meeting at the White House, said a shutdown "is always the last alternative" and distanced himself from Kelly's remarks.
"I'll let the chief of staff speak for himself," he said. "DACA people I know are pretty hard working."
Immigration Proposals
Trump's comments came as congressional leaders are negotiating a deal on spending legislation to avoid another shutdown.
Those talks have largely excluded the issue of immigration, which was at the heart of a brief shutdown last month. Trump rejected a proposed deal from Democrats that would have protected undocumented immigrants brought to the country as children from deportation, in exchange for some funding for the president's proposed wall on the Mexican border.
The White House has insisted that the legislation also limit legal immigration by restricting people from sponsoring family members to join them in the U.S., and by ending a program that awards visas to people from countries with low rates of migration to the U.S.
"I would shut it down over this issue," Trump repeated. "Without borders, we don't have a country."
Kelly said he's urged Senate Majority Leader Mitch McConnell to use Trump's proposal as the foundation of immigration legislation the Senate's expected to debate. He didn't indicate whether McConnell has agreed.
— With assistance by Kaustuv Basu
Before it's here, it's on the Bloomberg Terminal.
LEARN MORE