hyperdrive
This Is What Elon Musk Saving Millions of Dollars Looks Like
His successful Falcon Heavy launch was matched by a simultaneous landing of twin reusable boosters.
By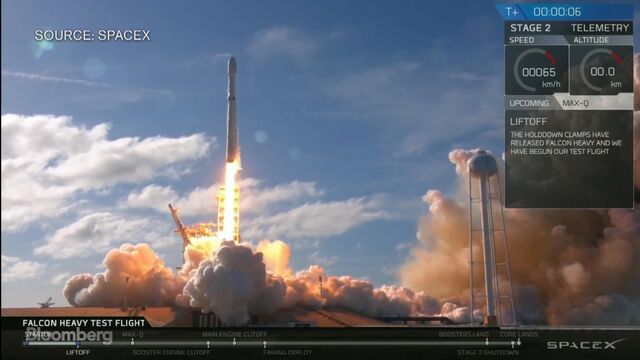 In offices and homes across the U.S. and around the world, cheers went up as Elon Musk's SpaceX successfully tested his new Falcon Heavy rocket Tuesday, a landmark achievement in the billionaire's Martian aspirations. But the screams were even louder when the vehicle's two reusable boosters landed safely and simultaneously back on Earth. 
The third booster was meant to land on a barge at sea. Each SpaceX Falcon 9 flight goes for $62 million, while a Falcon Heavy flight can cost $90 million. The payload for the flight was Musk's cherry-red Tesla Roadster sports car, outfitted with cameras to capture the views. A nearly indestructible disk carrying a digital copy of Isaac Asimov's science fiction book series, "Foundation," is also on board, plus a plaque engraved with 6,000 SpaceX employees' names.
Before it's here, it's on the Bloomberg Terminal.
LEARN MORE