The Daily Prophet: Want Real Concern? Check Out the Bond Market
Connecting the dots in global markets.
By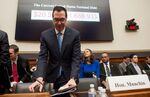 After a one-day reprieve, investors are back to hating bonds. U.S. Treasuries of all maturities fell Tuesday, pushing yields higher, as few saw the need to keep buying the ultimate haven asset as equities regained their footing after Monday's nasty slide. But that just brings up a new set of worries for markets.

At around 2.79 percent, the yield on the benchmark 10-year Treasury has risen steadily from last year's low of 2.04 percent in early September. That means the cost to borrow is going up for the government, companies and consumers. It's especially concerning for the government, which is forecast to at least double its debt sales this year to more than $1 trillion, which would be the most since 2010, to make up for the lost revenue from the tax cuts. Oh -- and the Federal Reserve is pulling back from its bond purchases.  And inflation is picking up. This week is a critical test of demand, with the Treasury selling $66 billion in three-, 10- and 30-year securities. The auctions started Tuesday with the sale of $26 billion of three-year notes, an increase from the $24 billion that the Treasury has sought for that maturity in monthly auctions going back to the start of 2015. It didn't go so well, as yields reached their highs of the day after strategists characterized the results as "soft."


Treasury Secretary Steven Mnuchin told reporters at the Capitol on Tuesday that the U.S.'s borrowing plans aren't adding to volatility in markets. "The debt markets are one of the most liquid markets in the world and are reacting very well," he said, according to Bloomberg News' Saleha Mohsin and Liz Capo McCormick. Ward McCarthy, the chief financial economist at Jefferies LLC, isn't so sure. "It's a massive increase in a relatively short period of time and that has some people nervous," McCarthy, who has followed debt markets for more than three decades, told Bloomberg News. The auctions resume Wednesday, with the sale of $24 billion in 10-year notes, followed by Thursday's sale of $16 billion in 30-year bonds.

GET USED TO VOLATILITY
U.S. stocks rebounded Tuesday, but not before going on a wild ride that saw the S&P 500 Index fall as much as 2.11 percent and then end 1.74 percent higher in its biggest gain since November 2016. After a prolonged period of calm, rising volatility is a big reason why stocks are weak. Get used to the volatility because it's likely to stick around for some time, according to the equity strategists at Bloomberg Intelligence. They say that's because correlations are on the rise after reaching historical lows late last year, likely leading to a period of higher volatility for U.S. stocks. Rolling three-month pairwise correlations of excess returns for Russell 1000 stocks touched a 17-year low in December. Since then, the relationship between return distributions has steadily climbed, thanks in part to the tailwind from tax reform. The BI strategists note that correlations converged further as markets peaked and tumbled in late January, likely adding fuel to the turmoil because stocks had already begun to trade in greater association. As policy shifts continue to dominate markets and earnings revisions come off of their tax-cut high, correlations may be poised to strengthen, increasing volatility for markets.


EMERGING-MARKET HAVENS
It seems that with each passing day there is more anecdotal evidence that emerging-markets are turning into havens for investors. That can be seen in the MSCI Emerging Markets Currency Index, which is little changed in recent days even though broad measures of the dollar, euro, pound and euro weakened. The strength in emerging markets makes sense when you consider that officials didn't squander the opportunity that came with the economy's rebound from the financial crisis. Foreign-exchange reserves for the 12 largest emerging-market economies, excluding China, have risen to $3.17 trillion from less than $2 trillion in 2009, providing an ample cushion if times get tough, according to data compiled by Bloomberg. "I'm bullish on EM this year," Conrad Saldanha, a portfolio manager who helps oversee $8 billion in emerging-market equities at Neuberger Berman Group in New York, told Bloomberg News. "I'm not sure where it stands in the next few days, but I'm bullish looking out for the next three years." The three biggest gainers against the dollar Wednesday were the South African rand, the Mexican peso and the Colombian peso.


BUYING PROTECTION
The cost to protect investors against the relatively slim chances that companies with even the strongest balance sheets will default is soaring. The Markit CDX North America Investment Grade index that measures credit-default swaps tied to a basket of companies has jumped to more than 55 basis points from about 45 basis points in a span of six trading days. You'd have to go back to 2016 to see a bigger move. It's the same for junk bonds. It's not so much that investors are anticipating more defaults, but the recent gyrations in riskier assets have them taking no chances with the Federal Reserve marching ahead on its rate-hike plans, the U.S. Treasury stepping up its borrowing and inflation starting to stir. S&P Global Ratings issued a stark warning Monday when it said the recent gains in corporate profits "won't be enough to offset the significant credit risk of high leverage levels among global corporates." Global nonfinancial corporate debt grew by 15 percentage points to 96 percent of GDP between 2011 and 2017, the firm said. It estimates that 37 percent of corporates -- based on a global sample of 13,000 entities -- could be categorized as highly leveraged in 2017 with debt exceeding earnings by more than five times.


ROUT SIDESTEPPED
Commodities are escaping the worst of the global rout in equities as losses in raw materials are capped by speculation that the bullish outlook for demand remains intact, according to Bloomberg News' Jake Lloyd-Smith and Heesu Lee. The Bloomberg Commodity Index, which measures returns on 22 basic resources from crude to copper, has dropped 1.87 percent the last three trading days as gains in precious metals and U.S. natural gas helped offset lower oil and industrial metals. The index is at its lowest level in four weeks, but it could be a lot worse if not for the global synchronized economic recovery. Two weeks ago, the International Monetary Fund raised its forecast for global economic growth this year to 3.9 percent, up 0.2 percentage point from its projection in October. That would be the fastest rate since 2011, when the world was bouncing back from the financial crisis. Goldman Sachs said last week it's the most bullish on raw materials since the end of the supercycle in 2008. "Clearly there is a risk-off tone in the markets that will weigh on the sector," Daniel Hynes, a senior commodities strategist at Australia & New Zealand Banking Group, told Bloomberg News. "But there is no fundamental reason for this selloff to change our view of commodity markets."


TEA LEAVES
The Federal Reserve Bank of New York is the most important of the Fed's 12 regional banks because it stands at the intersection of Wall Street, monetary policy and regulation. As such, its president has a permanent seat on the Federal Open Market Committee, which determines interest rates and monetary policy. Given all the gyrations in markets in recent days, it's safe to say that a public appearance Wednesday by William Dudley, the New York Fed's current president, is likely to get extra attention. He is scheduled to take part in a moderated Q&A at an event co-hosted by Reuters and the European-American Chamber of Commerce in New York. The New York Fed's board of directors has started preliminary discussions with potential candidates to succeed Dudley, who plans to retire in mid-2018.
If you'd like to get The Daily Prophet in e-mail form, right in your inbox, please subscribe to this link. Thanks!

DON'T MISS
Don't Mistake the Stock Market for the Economy: Robert Burgess
Market Losses on This Scale Aren't That Unusual: Ben Carlson
Markets Are Trapped as Policy Experiments Collide: Joe Carson
Trump Didn't Drive the Market Up, Or Down: Leonid Bershidsky
Don't Forget Just What a Recession Looks Like: Noah Smith
Before it's here, it's on the Bloomberg Terminal.
LEARN MORE