Selloff Shows Risk of Trump's Bull Market Bet
By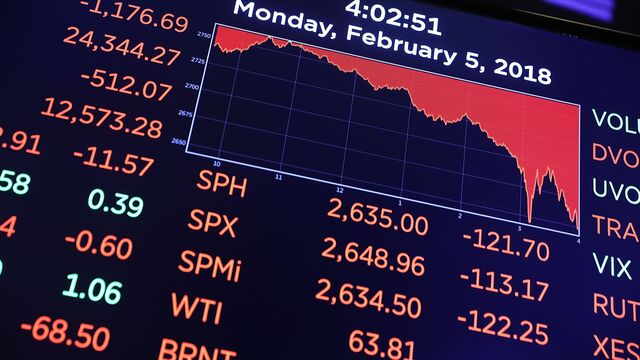 Want to receive this post in your inbox every morning? Sign up for the Balance of Power newsletter, and follow Bloomberg Politics on Twitter and Facebook for more.
The juxtaposition was stark and — for the White House — awkward.
With President Donald Trump frequently boasting he's responsible for the roaring U.S. stock market and yesterday touting "a tidal wave of good news" about the economy, shares took their biggest tumble in more than six years. The Dow Jones Industrial Average closed down 1,175 points, rattling Asian and European indexes and sending a gauge of world stocks toward its biggest three-day slide since 2015.
Fox News, the president's preferred media source, broke into its coverage of Trump's economic speech to cover the selloff.
The rout sent the administration's message machine into damage control mode, highlighting the political risk Trump runs in tying his presidency too closely to a bull market. It also has eroded some of his leverage heading into the latest potential showdown over government funding, which expires at midnight Thursday.
Like George W. Bush, Ronald Reagan and even Herbert Hoover in their own moments of market distress, Trump's team struck an upbeat note, trying to shift the focus to economic "fundamentals," which the White House said "remain exceptionally strong." It's a message that has had mixed success for Republicans in election years.

Global Headlines
Bannon no show? | Former White House strategist Steve Bannon is planning to flout a subpoena to appear today at a closed-door interview with the U.S. House Intelligence Committee, barring an agreement on the scope of the questioning. The panel yesterday backed releasing a Democratic memo countering Republicans' claim of misconduct by federal officials investigating Russian election interference. Trump has five days to decide whether to disclose the document.
U.S.-North Korea meeting? | U.S. Vice President Mike Pence declined to rule out talks with North Korean officials while attending Winter Olympics events in South Korea, telling reporters, "We'll see what happens." It was a surprising suggestion. The White House previously expressed skepticism about North Korea's efforts to join in the Games, which some U.S. officials say Kim Jong Un is exploiting for propaganda purposes. 
Seeking to avert a French Catalonia | President Emmanuel Macron begins a two-day visit to Corsica today to meet with a recently elected local administration that's making demands for greater autonomy the national government so far has indicated it can't accept. As Gregory Viscusi writes, French governments have long struggled in their dealings with the Mediterranean island and its independence movement that's resorted to violence in the past. 
Rise of an English gentleman | Conservative lawmaker Jacob Rees-Mogg has emerged as one of the most powerful figures in the debate on Britain's divorce from the EU. The former banker and founder of an asset management company advocates low taxes, and opposes abortion and gay marriage. But it's on Europe that his views matter most. Robert Hutton and Kitty Donaldson explain how everyone has a use for him, from fans of a hard Brexit to Prime Minister Theresa May. 
Refugee camps for Venezuelans | Refugee camps are rare in Latin America, but Venezuelans fleeing their ravaged nation are pouring into neighboring countries in numbers not seen since armed conflicts gripped the region more than two decades ago. In November alone, 96,000 Venezuelans entered Colombia while some 60,000 are now in Brazil's Roraima state, and authorities are struggling to cope. 
And finally… Don't flush unless you really need to — that's the message to visitors to Cape Town, including executives flying in for Africa's biggest annual mining conference, are getting as city officials scramble to deal with a looming water crisis. No bath plugs in hotel showers, and tea and coffee servings will be limited. One bit of good news: Day Zero — when authorities may have to turn off water supplies to residents — has been pushed out to May 11 instead of April 16.

— With assistance by Michael Cohen
Before it's here, it's on the Bloomberg Terminal.
LEARN MORE