Move Over, Chicken: Tyson's Newest Venture Is Steamed Dinners
By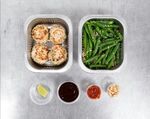 Last week, Tyson Foods Inc. backed lab-grown meat. Now, it's on to steamed dinners.
Tovala, a company making countertop smart ovens that heat ready-to-cook meals, is the latest start-up to receive backing from Tyson's venture capital arm, according to a statement Tuesday. No terms were announced. Chicago-based Tovala was founded in 2015, and the company's website features meal options like miso veggie stir-fry and Thai turkey meatballs.
The move is the meat processor's latest foray away from its traditional products. The Tyson brand has become almost synonymous with chicken, pork and beef sold in grocery coolers and freezers, but increasingly the company is expanding to meet consumer demands for products such as meat alternatives and prepared food.

Tyson is scheduled to report first-quarter earnings on Thursday. Its venture arm has also invested in Beyond Meat and Memphis Meats, companies producing plant-based and lab-grown meats. Chief Executive Officer Tom Hayes said in a statement last month that Tyson is eyeing "a protein strategy inclusive of alternative forms" and "exploring new approaches" to the future of food.
Before it's here, it's on the Bloomberg Terminal.
LEARN MORE