Merkel Pushes for Coalition Breakthrough as Markets Add Urgency
By , , and
Germany's chancellor says 'troubled times' require compromises

With fourth term at stake, negotiators say it's decision time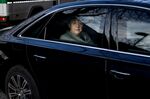 Chancellor Angela Merkel is pushing for a breakthrough to end Germany's political impasse, citing turmoil in global markets as a sign that Europe's biggest economy needs a stable government.
Negotiators for Merkel's Christian Democrat-led bloc and the Social Democrats say they'll finish more than a month of coalition talks on Tuesday, deal or no deal, though an extension is likely if an accord is within reach. Germany's longest party deadlock since World War II persisted after the Stoxx Europe 600 Index fell the most since June 2016 and Japan's Nikkei entered a correction.

"We must not lose sight of the important points, when we look at the turbulent stock market developments of the last few hours," Merkel said Tuesday ahead of decisive talks in Berlin. "We live in troubled times."
With much of a draft policy pact already agreed, SPD leaders are holding out for selling points to offer their divided base, which has the final say in a member ballot. That increases pressure on Merkel to make concessions that can cajole SPD members into renewing a party alliance that's governed Germany since 2013.
'Painful Compromises'
"All of us will have to make painful compromises," Merkel said. "I'm willing to do this if we can ensure that the advantages outweigh the disadvantages."
Germany's benchmark DAX index declined 2.3 percent on Tuesday to the lowest level in almost four months. After plunging 4.1 percent on Monday, the S&P 500 Index fell as much as 2.1 percent before regaining ground.
German party talks went into overtime on Monday as the SPD seeks to curb the use of temporary work contracts and end health-care advantages for privately insured patients.
In a 167-page coalition draft seen by Bloomberg, dated mid-day Monday, negotiators agree to:
defend Europe's fiscal and deficit rules in any projects with France to strengthen the euro area
ensure German lawmakers have a say on policies pursued by a future European monetary fund
call for a "trusting" relationship with the U.K. after Brexit
pledge to decide this year whether to require hardware fixes for diesel vehicles
reaffirm that sanctions on Russia should only be scaled back if there's progress on the Minsk accord to resolve the conflict in eastern Ukraine
"It's crunch time," said Andreas Scheuer, general secretary of Merkel's CSU Bavarian sister party. "Germany needs a stable government. We know that we have to come to an agreement today. Anything else would be indefensible."
The Hurdles That Remain to Merkel's Fourth Term: QuickTake Q&A
Merkel, 63, has governed as acting chancellor since her bloc won an inconclusive national election in September. Now, many SPD members are wary of another four-year tie-up with her, blaming two previous stints as junior partner for the party's electoral decline to a post-World War II low.
Any coalition pact will be put to a vote by the SPD's more than 460,000 members. A rejection would force Merkel to consider governing without a stable parliamentary majority or put Germany on track for another election, which polls suggest would turn out largely like the last one in September.
— With assistance by Rainer Buergin
Before it's here, it's on the Bloomberg Terminal.
LEARN MORE