Kenya Charges Opposition Figure as Protests Erupt After Arrests
By and
Government has arrested three opposition figures in past week

Protests erupts in southwest; demonstration planned in Nairobi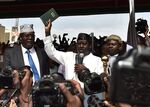 Kenyan authorities charged an opposition figure over his attendance at a mock inauguration ceremony, as protests erupted over the arrest of anti-government leaders.
Police charged Miguna Miguna with being present at the administering of an oath of office to National Super Alliance leader Raila Odinga on Jan. 30 "purporting to bind" Odinga to a treasonous offense, according to a charge sheet published on the Twitter account of Ukweli Party leader Boniface Mwangi. Treason is a capital crime in Kenya.
Protesters demanding Miguna's release marched through the streets of the western city of Kisumu and erected barricades in the southwestern town of Migori near the border with Tanzania, Nairobi-based Nation TV reported. In the capital, police with water canons deployed in anticipation of a demonstration by opposition supporters that failed to materialize by mid-afternoon.
Kenya's government has arrested at least three opposition figures since Odinga was sworn-in as the so-called people's president last week. Odinga took the oath of office after rejecting the outcome of two presidential elections last year that delivered President Uhuru Kenyatta a second term. His alliance, known as Nasa, has demanded fresh elections.
Hindering Growth
The impasse between the opposition and the government is hindering a return to "political normality" and the revival of Kenya's economy, said Ahmed Salim, a Dubai-based vice president of research group Teneo Strategy. The dispute over the annulled August ballot and a repeat election in October depressed economic activity in the second half of 2017 and growth for the year is expected to slow to 4.8 percent from 5.8 percent in 2016, according to the Treasury.
In addition to the arrests, the state also closed down three broadcasters for transmitting the opposition ceremony live. Two of the channels, KTN News and Nation TV, resumed broadcasts on Monday, while the third, Citizen TV, remains off air, despite a Feb. 1 High Court order that the government allow them to resume transmissions.
On Tuesday, the government ordered David Ndii, a technical adviser to the opposition alliance, and an unspecified number of other individuals to surrender their passports, Director of Immigration Gordon Kihalangwa said by phone.
"The longer Kenyatta and the government extend the fallout and controversy from the 2017 election, the longer it takes for the economy to grow," Salim said.
The standoff has had little impact on Kenya's financial markets. The shilling traded 0.4 percent stronger at 101.25 per dollar by 3:28 p.m. on Tuesday, as the Nairobi Securities Exchange's All Share Index advanced 0.4 percent.
Before it's here, it's on the Bloomberg Terminal.
LEARN MORE