It's Showtime for Kalanick as Key Witness in Uber-Waymo Trial
By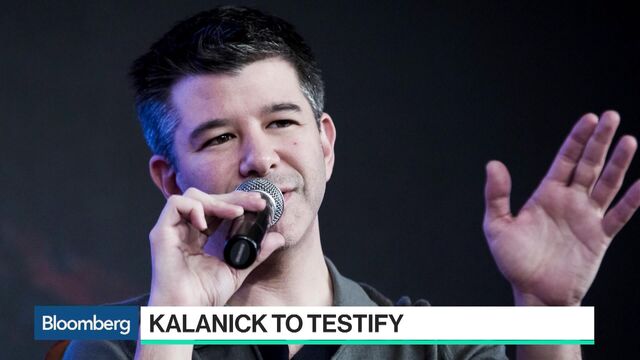 Uber Technologies Inc. co-founder Travis Kalanick took the witness stand as the company fights claims by rival Waymo that it was driven by his greed and cutthroat attitude to steal critical technology for driverless cars.
Kalanick, the most highly anticipated witness at a trial in San Francisco set to last three weeks, will start his testimony Tuesday responding to questions from Waymo lawyers intending to show that the ousted chief executive of Uber conspired with one of the Alphabet Inc. unit's lead engineers to take thousands of proprietary files.
Kalanick will be asked about secret meetings and text exchanges he had with Anthony Levandowski starting in 2015 while the engineer was still at Google, and how he reacted a few months later when Levandowski told him he had hard discs containing intellectual property from his former employer. Kalanick and Levandowski aren't defendants in Waymo's lawsuit.
In a pretrial deposition, Kalanick said he told Levandowski to consult Uber's lawyers. Levandowski has said the five discs contained confidential Google source code and software for self-driving cars and that he had them shredded after Kalanick told him to "do what he needed to do" with them, according to a report by a forensics firm that vetted Uber's acquisition of Levandowski's startup, Otto.
Before it's here, it's on the Bloomberg Terminal.
LEARN MORE