Ireland's Varadkar Issues Warning to U.K. on Brexit Promises
By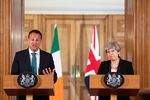 Irish Prime Minister Leo Varadkar said it's "right" to be concerned that the border question in Brexit talks remains to be fully settled, issuing a veiled warning to Britain that a resolution is needed before talks move to trade.
The border issue " isn't done yet," Varadkar said in parliament in Dublin on Tuesday, adding it was "significant" that the focus now is on the withdrawal agreement rather than the future relationship between the U.K. and the European Union.

In a deal agreed in December to unlock divorce talks, U.K. Prime Minister Theresa May guaranteed no hard border will re-emerge on the island of Ireland after Brexit .
While the agreement was designed to prevent a breakdown in talks, serious questions still need to be resolved, according to three people familiar with the EU side of the negotiations. Different interpretations around the precise meaning of May's commitments are starting to crystallize, according to one European diplomat last month.
There are at least two areas of potential disagreement, according to the diplomat, who asked not to be identified as talks are ongoing.
Supported by the EU, Ireland wants the broadest possible interpretation of May's rule alignment pledge to cover as many sectors and goods as possible. The U.K. is seen as wanting the narrowest possible interpretation, limiting it to sectors such as agriculture and energy
The EU and Ireland want the U.K. to set out how it will avoid a hard border if talks on a future trade relationship don't deal with all the issues -- they want that detail in the withdrawal agreement. It's not clear the U.K. shares that view .
Before it's here, it's on the Bloomberg Terminal.
LEARN MORE