China's Billionaires Will Fuel Demand for Private Jets: Gulfstream
By
Large-cabin aircraft are primarily preferred in China

Private-jet maker has delivered 300 G650 jets so far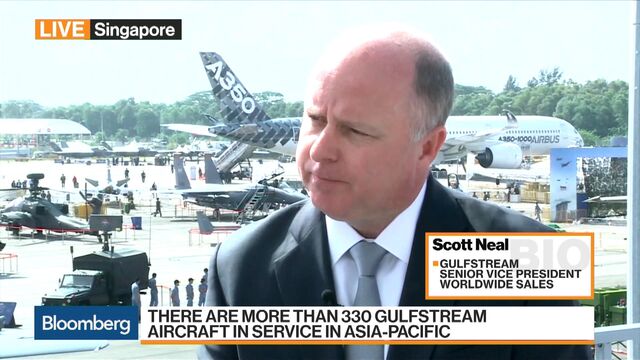 Gulfstream Aerospace Corp. is counting on China's freshly minted billionaires and businesses to boost sales as the maker of private jets taps new customers with bigger models that can fly farther.
The demand in China is primarily for large cabin aircraft "that will allow Chinese companies to fly non-stop to many destinations around the world," Scott Neal, senior vice president for worldwide sales at Gulfstream, told Bloomberg Television's Haslinda Amin in an interview at the Singapore Airshow. "As Chinese businesses expand around the globe, they've seen the utility that a business jet can provide."

The unit of General Dynamics Corp. is "still seeing good signs of activity and growth" in China, Neal said, even after demand for luxury items slumped following President Xi Jinping's campaign against corruption and excess kicked off in 2014. Asia Pacific, and China in particular, was the second-busiest market outside the U.S. for Gulfstream last year, he said.
Gulfstream, which started delivering the private-jet industry's largest business aircraft, G650, in 2012, has sold about 300 of the model globally, Neal said. With a list price of $67.4 million, the jet can clock a Tokyo-New York trip in less than 11 hours. Rival Bombardier Inc. is seeking to take on the G650 with the debut of its Global 7000 later this year. Priced at $73 million, the Global 7000 is even bigger and matches the G650's speed at just below the sound barrier, although the G650's extended-range version still flies farther.

The G650 has helped make Gulfstream the most profitable private jet maker, with operating profit margins of 21 percent, according to JPMorgan Chase & Co. estimates.
The company is also introducing new models, as they often spur sales. The Gulfstream G500 and G600 are scheduled to enter service this year.
(
Corrects delivery year in the last paragraph.
)
Before it's here, it's on the Bloomberg Terminal.
LEARN MORE