technology
Gulfstream Lures Asia's Rich and Famous With New Jets
By and
Cessna, HondaJet also on display at Singapore Airshow

Business aircraft makers pitch luxury, range and jet speeds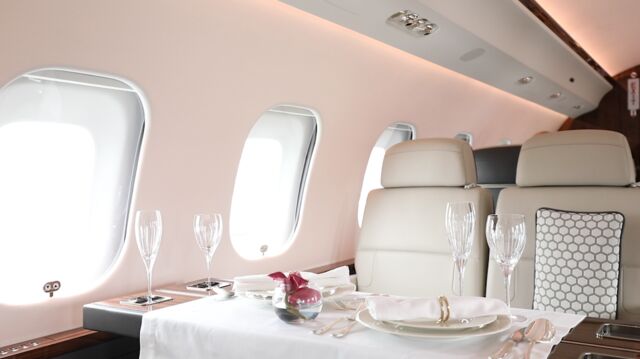 Luxury private jet makers are looking for buyers in the world's most expensive city, seeking the rich and famous of Asia with state-of-the-art features.
At the Singapore Airshow this week, private jets on display showcase everything from adjustable desks on board to the latest in entertainment systems and even abundant sunlight with bigger windows. The idea is to convince the busy business traveler how he can work, dine and sleep comfortably on the plane on an 11-hour trip from Tokyo to New York.
Gulfstream, a unit of General Dynamics Corp., is showcasing a range of its aircraft at Asia's biggest aviation event, including the debut this year of its G600. Also on display is the G650, the private-jet industry's largest business aircraft, which can clock a Tokyo-New York trip in less than 11 hours.
The G500 by Gulfstream, the world's most profitable private jet maker, is scheduled to enter service this year. It can fly as far as 9,630 kilometers (6,000 miles) and can seat up to 19 passengers. Pedestal-mounted and height-adjustable conference tables along with high-speed communications and entertainment equipment make the aircraft "an office in the sky," according to its website.

Textron Inc.-owned Cessna's Citation Longitude, which the company calls "a revolution in business aviation," is also on display in Singapore. The aircraft can fly to Sydney from Singapore in about 7.5 hours, at a total cost of $14,226, according to its online brochure.
HondaJet, which Honda Motor Co. bills as the fastest, quietest and most fuel-efficient jet in its class, is equipped to seat as many as seven passengers with leather seats. Its jet engines are located on top of the wings, increasing fuel efficiency by about 15 percent and freeing up about 20 percent more cabin space than in comparable aircraft, according to the company.
(
Corrects delivery year in third paragraph.
)
Before it's here, it's on the Bloomberg Terminal.
LEARN MORE