markets
Gold Jewelry Demand Seen at 20-Year Low in United Arab Emirates
By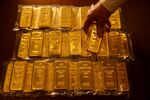 Gold jewelry demand in the United Arab Emirates sank to a 20-year low last year, the fourth consecutive annual decline, the World Gold Council said.
Purchases fell 2 percent to 42.8 tons last year, the producer-funded council said Tuesday in an emailed report. The drop occurred even after fourth-quarter demand gained 16 percent as consumers rushed to buy to beat a 5 percent Value Added Tax that was imposed in January, it said.
The U.A.E. and Saudi Arabia, the world's biggest oil exporter, have been squeezed by a fall in crude prices over the past several years. U.A.E. per capita consumer gold demand dropped from 8.7 grams in 2013 to 4.8 grams in 2017 while Brent crude tumbled over the same period from $108.70 a barrel on average to $54.75, according to data compiled by the council and Bloomberg.
Iran and Kuwait were the only Middle Eastern countries that showed higher gold jewelry demand last year. Even after bar and coin demand in the oil-rich region more than doubled, to 40.5 tons, last year, the market "remains a shadow of its former self," with average annual demand of about 70 tons in 2007 to 2016, the council said.
Saudi Arabia, the region's biggest buyer, bought 45.7 tons of gold jewelry last year, down 8 percent, according to the report. Iran came close to beating Saudi Arabia with jewelry demand of 45.4 tons, up 12 percent for the year and the most since 2013, the council said. Demand slowed in the fourth quarter, with a gain of 2 percent, as "worsening U.S.-Iranian relations undermined consumer sentiment," the council said.
Kuwait's gold jewelry usage climbed 4 percent to 13 tons, while Egypt's purchases slumped 14 percent to 22 tons, according to the report.
Before it's here, it's on the Bloomberg Terminal.
LEARN MORE