markets
Banks Aren't Showing Their Math on Identical 1% Gender Pay Gaps
By , , and
Statistics were adjusted for job title, seniority, geography

'The numbers don't mean everything I need them to mean.'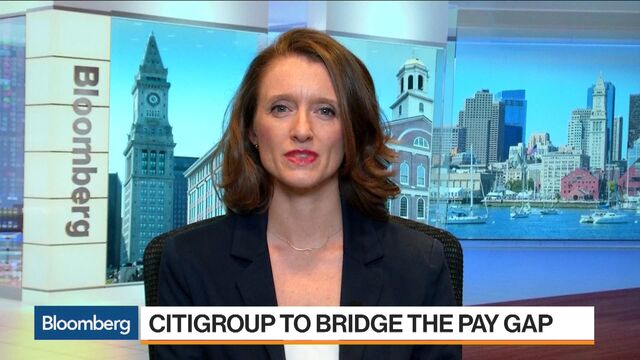 Bank of New York Mellon Corp. announced Tuesday that its female employees earn at least 99 percent of what male workers do, making it the fourth big bank to publish its pay gap -- and the fourth to report a slender 1 percent discrepancy. All four said that people of color are also earning 99 percent of what their white colleagues make.
At first glance, that's significantly better than national calculations suggest. In the U.S. overall, women earned 83 percent of what men made in 2015, according to a Pew Research Center analysis of median hourly earnings of both full- and part-time U.S. workers. For the same year, black Americans' compensation was about 75 percent of the rate for whites.
Part of the national average pay gap reflects the fact that men hold a disproportionate number of higher paying jobs, including corporate leadership and senior management. (It's against federal law to pay women less for the same work that men do.)
The senior ranks of the big banks are dominated by men, too, but Citigroup Inc., Bank of America Corp., Wells Fargo & Co., BNY Mellon are reporting what they call an adjusted pay gap, taking into account job title, seniority, geography and other factors that can affect compensation. The 99 percent figure, they say, shows that compensation is basically equal for men and women with similar professional backgrounds in comparable jobs. They declined to comment beyond their initial press releases.
Activist investors have been pushing the banks to publish -- and close -- their pay gaps for more than a year. Natasha Lamb, managing director of Arjuna Capital, suggested that's given them plenty of time to come up with a figure that doesn't embarrass them. "They've done a lot of work before putting out those numbers," she said. "There's been some cleaning house."
She also called for more, better disclosure. While the banks have coalesced around a 99 percent figure -- other companies, including Starbucks, Facebook, Microsoft, have made similar claims in the past -- they declined to reveal how they calculated it or what time frame they used.
"The numbers can be interpreted in a lot of ways and can be designed to make them look good," said Julie Gorte, senior vice president for sustainable investing at Impax Asset Management LLC and portfolio manager for its Global Women's Index Fund.
A firm's "pay philosophy" also needs to be taken into account, said Brian Levine, a consultant at Mercer, which helped calculate the pay gap for Wells Fargo. It was the only bank to say publicly who it worked with. In general and after adjusting, gender pay gaps range from 1 to about 3 percent, Levine said, noting that he wasn't referring to any specific client.
Analysis by Glassdoor Inc., a job and career site, found that across industries, men earn about 5.6 percent more than women when controlling for job title, seniority and other factors.
Those gaps, while smaller than the national average, are still significant, Lamb said. "The gap still isn't closed. With the law of large numbers, the outliers can get muted when there's so much being averaged."
In April, Wall Street's biggest banks will be required to report a more blunt, uniform assessment of any gender-pay gap, at least among their workers in the United Kingdom. For the first time, the government there is requiring any company with more than 250 employees in Britain to reveal the gap between how much men and women are paid on average. They also have to report the gender breakdown among employees across four pay quartiles, as well as the difference in bonus pay. They aren't allowed to adjust for mitigating factors.
"It's more of a harsh reflection of the structural deficiencies," Lamb said of the U.K. disclosures. "Both kinds of numbers have to be looked at."
In the U.S., the policy winds have blown against more uniform or transparent disclosures. Last year, the Trump Administration iced a rule change that would've required companies to file gender and pay data with the EEOC. In 2015, a investor suggestion that the SEC require uniform data went nowhere.
Meanwhile, advocates for equal pay say the recent disclosures are a start. "I can't say that the numbers don't mean anything," said Kristin Hull, chief executive officer at Nia Impact Capital. "But the numbers don't mean everything I need them to mean right now."
Before it's here, it's on the Bloomberg Terminal.
LEARN MORE